MEMPHIS HEROES AWARDS
FIRST ANNUAL MEMPHIS HEROES AWARDS
TO BE HELD TUESDAY, APRIL 13, 2004

WHAT:

The Memphis Chapter of the Recording Academy's first annual Heroes Awards will
honor musical pioneers Scotty Moore, D. J. Fontana and the late Bill Black (Elvis' original band); Ike Turner; Clarence "Gatemouth" Brown; and Big Star. The Heroes Award is the highest honor bestowed by an Academy Chapter. It recognizes special individuals who have made significant contributions to America's music and popular culture. Recording Academy chapters have previously honored B. B. King, James Brown, Ray Charles, Tony Bennett, Dionne Warwick and Tom Dowd, among others.

WHEN:

Tuesday, April 13, 2004, 7:30 p.m.

WHERE:

Cannon Center for the Performing Arts
255 N. Main Street, Memphis, TN 38103

WHO:

Rock and Roll Hall of Fame inductee Scotty Moore, D. J. Fontana; GRAMMY® winner Ike Turner; GRAMMY winner Clarence "Gatemouth" Brown; Alex Chilton and Jody Stephens of quintessential American power pop band Big Star; and other well-known artists.

EVENT:

Live performances by the honorees and special guests who were influenced by the honorees, alternating with video clips and artists paying tribute to the honorees. A vintage guitar exhibit immediately precedes the event and an official post party with live performances closes out the evening. Performers announced and tickets on sale March 1. Contact the Memphis Chapter of the Recording Academy for more information.

Established in 1957, the National Academy of Recording Arts & Sciences, Inc., also known as the Recording Academy, is dedicated to improving the quality of life and cultural condition for music and its makers. An organization of musicians, producers and other recording professionals, the Recording Academy is internationally known for the GRAMMY Awards, and is responsible for numerous groundbreaking outreach, professional development, cultural enrichment, education and human services programs.

Event Contact:

Katherine Sage
Memphis Chapter of the Recording Academy
Phone: 901.525.1340
Web Site: memphis@grammy.com
1/20/2004 press release courtesy the Memphis chapter of the National Academy of Recording Arts and Sciences (NARAS): and EPE. Inc
---
April 13 - Memphis Heroes Awards 2004
Cannon Center for the Performing Arts, 255 North Main St., Memphis, 7:30 p.m.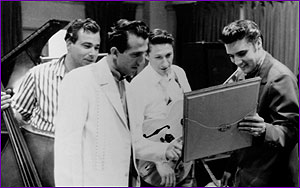 Bill Black, D. J. Fontana and Scotty Moore with Elvis
© Elvis Presley Enterprises, Inc.
The Memphis Chapter's first annual Heroes Awards, planned for April 13 at the Cannon Center of Performing Arts, will honor Elvis' first bandmates, Rock and Roll Hall of Fame inductee Scotty Moore, Bill Black and D.J. Fontana; GRAMMY Award-winning musician/bandleader Ike Turner; GRAMMY Award-winning multi-instrumentalist Clarence "Gatemouth" Brown; and indie rock band Big Star.
The Heroes Awards begin at 7:30 p.m. with live performances, awards and video tributes. Artists participating in the event include Ronnie McDowell, GRAMMY winners the Jordanaires; GRAMMY winner John D. Loudermilk; Mike Mills, bass player for GRAMMY-winning band R.E.M.; and three-time W.C. Handy Award winner Joe Louis Walker. Tickets are currently available at all Ticketmaster locations, online at ticketmaster.com or by phone at 901.525.1515.
The Peabody Hotel is offering Memphis Heroes Awards attendees a special rate. For information, call Sarah Carroll at the Memphis Chapter office.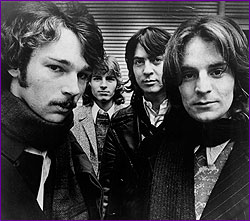 Big Star
© Eggleston Artistic Trust
Much as 2003 was deemed the Year of the Blues to celebrate 100 years of the blues, Memphis will celebrate 50 years of rock and roll in 2004. On July 5, 1954, Elvis Presley, Scotty and Bill's recording of "That's All Right," produced by Sam Phillips for his Sun Records, hit the airwaves and began a musical revolution. All three musicians made stellar contributions to the track by shedding their inhibitions, by mixing country and blues and going into new territory. D. J. Fontana was added to the band in 1955. They are widely acknowledged as the first great rock and roll band, influencing rockers of later generations, including the Beatles and Rolling Stones.
In March 1951, Clarksdale, Mississippi-born teenager Ike Turner and his band, the Kings of Rhythm, traveled to Memphis to record at Sam Phillips' Sun Studio. Their original tune "Rocket 88" was recorded and released with a lead vocal by sax player Jackie Brenston under the name Jackie Brenston & His Delta Cats. "Rocket 88" zoomed to the top of the R&B charts and is today regarded by many critics as the first true rock and roll record.
Louisiana-born, Texas-raised multi-instrumentalist and GRAMMY winner Clarence "Gatemouth" Brown is an unclassifiable American original who has been dishing up his unique blend of blues, R&B, country, jazz and Cajun music for more than 50 years. A virtuoso on guitar, violin, harmonica, mandolin, viola and even drums, Gatemouth has influenced performers as diverse as Albert Collins, Frank Zappa, Lonnie Brooks, Eric Clapton and Joe Louis Walker.
The quintessential American power pop band Big Star remains one of the most mythic and influential cult acts in all of rock and roll. The group's three studio albums are listed in Rolling Stone magazine's "500 Greatest Albums Of All Time," and their influence on subsequent generations of indie bands such as R.E.M., the Replacements and the dBs is enormous. Their song "In The Street" (as recorded by Cheap Trick) was chosen for the theme of the television sitcom "That '70s Show."
The Heroes Awards will be recorded for television and will feature presentations and performances by historic and contemporary artists influenced by these musical pioneers.
courtesy N.A.R.A.S. Memphis site
---
(l-r) David Bell, Mike Mills, Jody Stephens, Jon Auer, Executive Director of the Memphis Chapter Jon Hornyak and Ken Stringfellow

Memphis Heroes Awards: Artists who helped create Memphis' rich musical legacy — and influenced the world of music from the Mid-South — were honored at the Memphis Heroes Awards held at the Cannon Center for the Performing Arts on April 13.

The Heroes Awards celebrate legends in the music industry, acknowledging those artists who have made a lasting impact to the world of music and popular culture. Just as Memphis' musical history encompasses an array of genres, the selected honorees represented diverse backgrounds. Those whose outstanding careers were recognized included Elvis Presley's bandmates Scotty Moore, D.J. Fontana, and the late Bill Black; power pop band Big Star; soul icon Ike Turner; and the blues octogenarian Clarence "Gatemouth" Brown.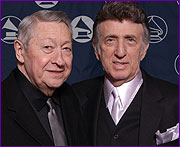 Scotty Moore and D. J. Fontana
The audience was treated to live performances, video tributes and presentations to the honorees by their friends and fellow musicians. Music lovers, fans, business leaders music executives and entertainers from across the country were in attendance.
Mike Mills, a member of the alternative rock band R.E.M., touted the influence of Big Star, while presenting the first award to the under-acclaimed Memphis band. "If you're a fan of rock and roll, even if you haven't heard of Big Star, you owe them, because I guarantee you, any band you like did hear of them and listened to them, and do their best to do as well as they did," Mills said. Big Star performed one of their most notable hits, "In The Street," which garnered even more fame when it was covered by Cheap Trick to be the theme song to "That '70s Show."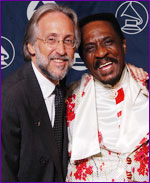 Neil Portnow and Ike Turner
Elvis' dream team and bandmates, guitarist Scotty Moore, bassist Bill Black, and drummer D. J. Fontana, were next to receive their awards. Black's children accepted his award on their late father's behalf. Ronnie McDowell, Joe Louis Walker, and the Jordanaires accompanied Moore and Fontana during their musical performances, which included the bluesy rock love-lost anthem "Heartbreak Hotel" and Elvis' signature version of the gospel classic "How Great Thou Art."

After the heroes of pop and rock were recognized, Ike Turner took the stage, but not after shedding a few tears upon receiving his award from two of his friends and peers, Little Milton and Knox Phillips. "This is totally unexpected," Turner said. "I didn't expect any of this. I thought I was just coming to Memphis to do a couple of songs tonight." Turner performed his breakout hit "Rocket 88," a tribute to the Oldsmobile, which featured Little Milton on vocals, and the electrifying soul chart-topper "Proud Mary."
Clarence "Gatemouth" Brown closed the evening with his unique brand of Louisiana- and Texas-rooted blues that utilizes country, rock and roll, soul, swing, jazz, Cajun, and Brown's talent as a multi-instrumentalist. Turner presented Brown with his award and noted that Brown was the only guitar player he ever paid attention to.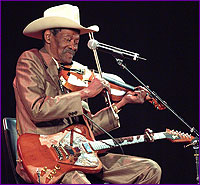 Clarence "Gatemouth" Brown
Brown performed the up-tempo swing ballad "Take The 'A' Train." He also silenced the audience when he held a single, haunting high note on his violin for at least a minute that seemed to cry out to the room.
Recording Academy President Neil Portnow summed the show up with one great statement, "This isn't just Memphis history. It isn't just music history. This is world history...[and] we celebrate the unique power that music has to unite all of us."
Special thanks go to Memphis Heroes Awards Presenting Sponsor Gibson Musical Instruments/Baldwin Pianos, and all sponsors including WREG Channel 3, Graceland, Phillips Recording, Spin Street, Memphis Flyer, Memphis Radio Group, Blues Ball/Memphis Charitable Foundation, Pinpoint Printing, Memphis Convention & Visitors Bureau, The Peabody Hotel, Another Roadside Attraction, Henry Turley Company, Memphis Marriott Downtown, Sun Studio, Northwest Airlink, Running Pony Productions, Ardent Studios, Select-O-Hits, Huey's, AMRO Music, BMI and Eskridge & Eskridge Law Firm.
courtesy N.A.R.A.S. Memphis site