Laughlin River Run
Laughlin, NV
A lot of people ask how I met Scotty and how the site got started. I had never seen Scotty perform before and when my friend Mike Eldred told me in January of 2002 that he would be performing with Scotty the following April, a couple of friends and I (Miles and Chrissie) decided to meet in Vegas for a long weekend and drive down to Laughlin for the show (a 90 mile and 90 minute trip). Miles was coming from California, Chrissie from Phoenix and me from Boston (or thereabouts).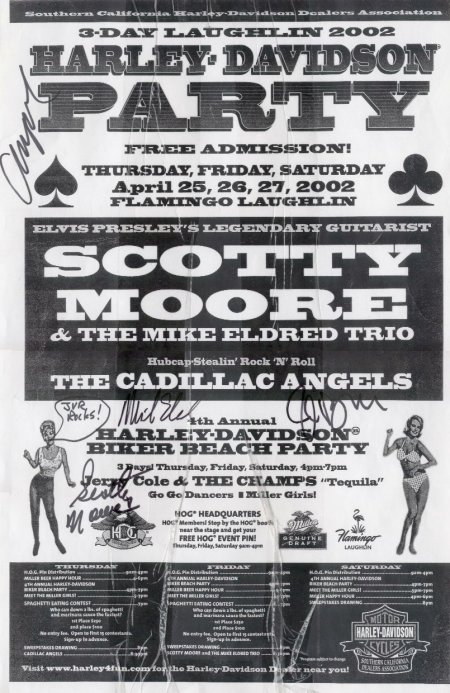 Ad for Scotty's gig in Laughlin with the Mike Eldred Trio - April 27, 2002
Chrissie and I got there on Friday but Miles didn't arrive till Saturday. We left Vegas around 4:00 p.m. thinking we'd hang out in Laughlin a little before the show and see some of the sites since it was the big biker rally, the Laughlin River Run, that weekend. En Route to Laughlin we encountered a road block on 95 (the only real road between there and Las Vegas) at the junction of 165.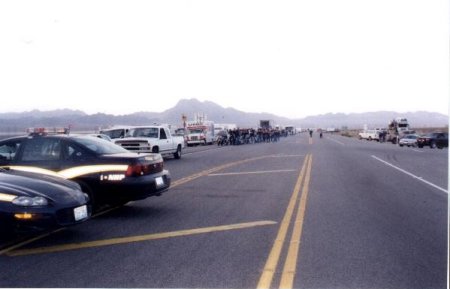 Roadblock on Highway 95


The map we had. Vegas to Laughlin 90 miles
There had been a major accident with fatalities causing them to close the highway since 2:00 in the afternoon. Unfortunately a driver had crossed lanes and killed two oncoming cyclists and the road had been closed to all traffic for several (6) hours. The map showed another road from Nelson to 95, actually it was more of a blue line (pay no attention to the fine print, we didn't).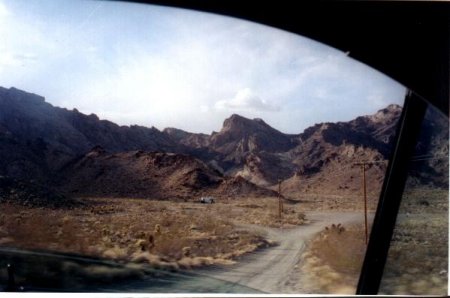 Since we had planned the trip around seeing Scotty and had no idea how long the road would be closed we decided to follow the blue line. The only other alternative would've been to take the long way around by heading back and over to Arizona.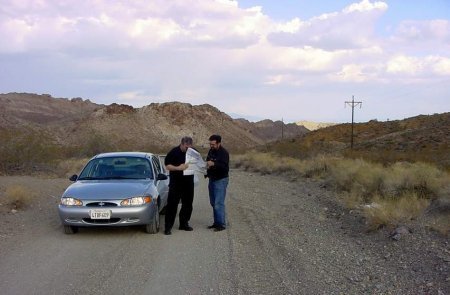 In reality the "blue line" turned into a maze of mountainous dirt trails that really tested the limits of the Ford Escort we were driving, but, we had a map. It didn't quite show the desolation though.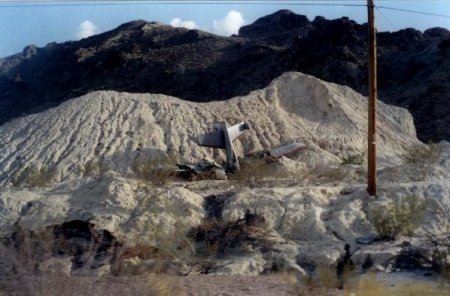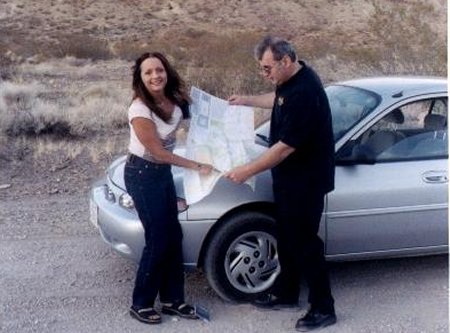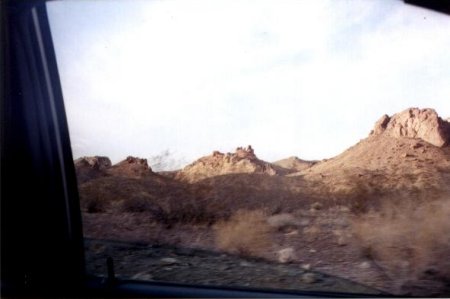 Eventually the roads (paths) got narrower and softer and we realized that there was just no way of making it across that terrain without a four wheel drive vehicle (and an Indian scout and several canteens of water). We were convinced (forced) to return to the roadblock.
The line of frustrated bikers and truckers who had spent the day waiting (because they obviously didn't have our map, but had more sense) was very long. It was becoming disheartening thinking that we had come all this way and were not going to make it to the show and then I noticed some activity with the police in the road block. We were conveniently parked off the road in the intersection across the road from everyone else, having returned from the "detour" when the Police quietly and quickly got in their vehicles and just left. Without hesitating we started the car and took of down the road, cutting everyone else off in the process.

Mike Eldred, John Bazz and Jerry Angel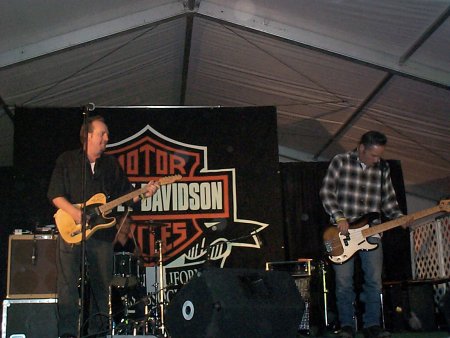 Mike Eldred, Jerry Angel and John Bazz
By the time we got to the gig, parked and found our way to the right tent, the show had started but we got there just before Scotty went on.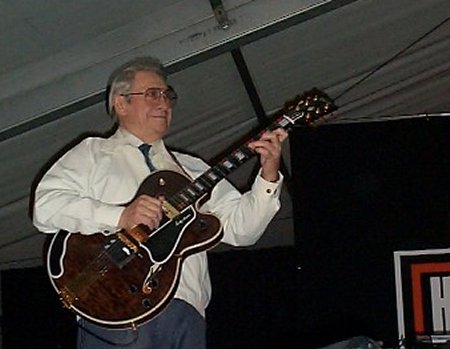 Scotty

Scotty and Mike
The show was great and it was a thrill for me to actually be seeing Scotty play all the licks I had been hearing all of my life on the recordings. Mike hooked us up after the show so that we got to meet him and he signed autographs for us.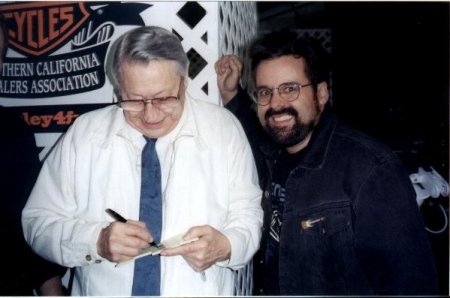 Scotty and Miles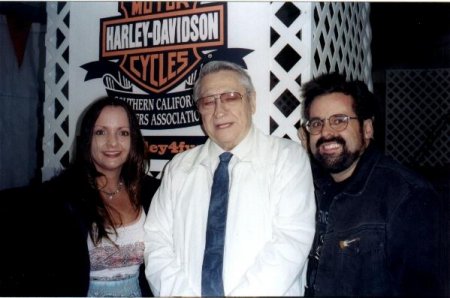 Chrissie, Scotty and Miles

Mike, Scotty and me
Back in Las Vegas the next day we saw on the news that there had been a large brawl between rival biker gangs in one of the Casinos that had resulted in several fatalities. We were fortunate to get out of Laughlin before they had a city wide lockdown. About a month later Scotty performed with Lee Rocker at the House of Blues in Cambridge, about 30 minutes from my home, and I got to see him again. A few months later we met in Memphis and talked about starting his web site and the rest is ... well browse around.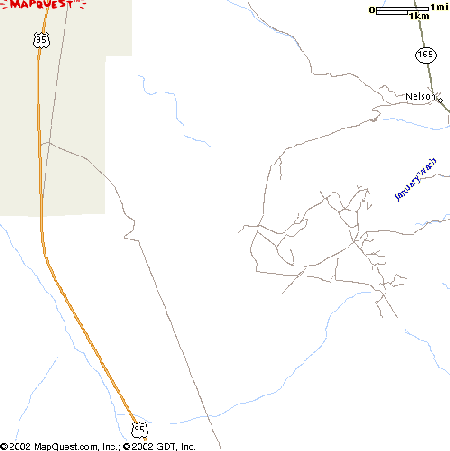 James V. Roy
added December 1, 2008
---
April 28, 2002
A Brawl Between Motorcycle Gangs Turns Fatal at a Nevada Casino
By ALEX KUCZYNSKI
Three men, all motorcycle gang members, were killed and about a dozen others were injured in a shooting and knifing brawl that broke out in Harrah's casino early this morning among rival bikers attending a huge annual motorcycle rally, the authorities said.

Another man, apparently also a biker, was found fatally shot this morning on Interstate 40 just across the border in California, said Sgt. Chris Darcy of the Las Vegas Police Department, which helps patrol Laughlin, a Colorado River gambling resort about 90 miles south of Las Vegas. It was not immediately clear whether his death was related to the casino shootings, the police said.

The police said the fight erupted when a member of the Mongol motorcycle gang walked into a group of Hells Angels near the casino entrance. Sixty to 70 people, armed with guns and knives, were involved, the authorities said.

All three of the dead were bikers, the police said, adding that numerous people were arrested and a handgun was recovered.

Several people at the rally said tensions had been brewing between members of the Hells Angels and the Mongols, and the fight had resulted from a territorial dispute. It was most likely the worst case of casino violence in the history of the state, Sergeant Darcy said.

The shooting came on the first night of River Run, the annual motorcycle rally in Laughlin. The rally has been held for 20 years and is considered by its promoters to be the West's largest ride-in motorcycle show, drawing about 50,000 participants a year. It is directed primarily at Harley-Davidson fans, which means it attracts bikers from clubs around the country, who come to gape at new models and to ride up and down the strip.

Until late yesterday afternoon, about a hundred gang members were still sequestered inside the Harrah's casino, being questioned by the police.

''It's very difficult to track everything down,'' Sergeant Darcy said. ''It's not as if this was one person shooting one other person. There were many, many people involved.''

Outside, the main strip was humming with thousands of bikers undeterred by this morning's violence and gunning their Harley-Davidson hogs as they rode slowly past the site of the melee. Only a few stopped to crane their necks past the yellow police tape.

Across the street, bikers sat under the temporary awnings rigged off their campers and RV's, as billboard-size banners for Jim Beam and Coors fluttered behind them and the music of Lynyrd Skynyrd and Rush providing a tinny sound track that could only occasionally be heard over the desert wind.

The sign at the main entrance to town was still flashing a warning not to bring bottles or cans onto Laughlin Civic Drive. Also at the entrance was a notice that anyone younger than 16 was under curfew from 6 p.m. to 6 a.m. The neon sign at Harrah's was still flashing the happy phrase: ''Welcome Bikers / 25 cent craps.''

The highways into and out of the town were closed after the brawl, which began around 2:15 this morning.

Denise Massey, 48, was gambling with her fiancé on the first floor of Harrah's when she noticed 20 to 30 bikers suddenly converge.

''Next thing you know you just hear 'Bam, bam, bam,' '' Ms. Massey told The Associated Press. ''All of a sudden they're running and just shooting at each other.''

According to the federal Bureau of Alcohol, Tobacco and Firearms, the Mongols are one of the most violent and criminally active motorcycle gangs in Southern California. Two years ago, the authorities arrested 29 Mongols on racketeering and other charges in Oklahoma, Georgia and California after an undercover operation in which an A.T.F. special agent infiltrated the club. During the investigation, the authorities recovered more than 70 firearms, including two machine guns.

Seven people injured in this morning's violence were sent to the Western Arizona Regional Medical Center across the river in Bullhead City, Ariz. University Medical Center in Las Vegas was treating five patients.


Copyright 2008 The New York Times Company