Lamar-Airways Shopping Center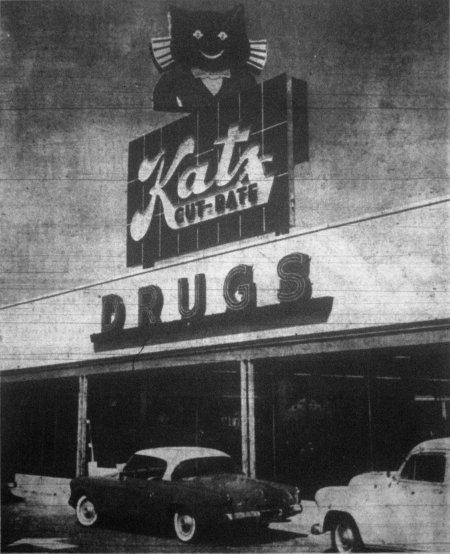 MOST SPECTACULAR store front at Lama-Airways Shopping Center is the Katz Drug Store, first in Memphis. This is the Katz chain's 32nd drug store. all the stores are located in big cities. The cat head on top of the building rotates and can be seen high over the center from all directions. For sale here will be everything from ice cream to real live monkeys - drugs too.
Press-Scimitar Staff Photo - Sep. 9, 1954
1950's America saw the introduction of several new things, among them the Eisenhower interstate highway system, rock and roll, and shopping centers (strip mall). One of the first and newest in Memphis was the Lamar-Airways Shopping Center, located at the triangle formed by Lamar, Park and Airways. When Lamar-Airways was built, the area around it was already well-developed. Expensive but aging homes stood to the west on South Parkway. Orange Mound to the east had been developed decades before, and there was already some strip development in place to accommodate through traffic in and out of Memphis.1

Full page advertisement in the Commercial Appeal - Sept. 9, 1954
Until 1954 the triangle was a field that was considered a no-man's-land of sorts, one of the few places where white and black kids from the surrounding areas could encounter each other on a regular basis. When the center was built it was, at the time, the largest of its kind. Anchored by a Katz Drug Store, it included a Kroger, a Pic-Pac, Shainberg's Department Store and several clothing and shoe stores. Its opening on September 9th was blessed by Chief Wishackchihumma of the Choctaw Indians, and its emblem was a 28-foot paper-and-plastic Indian chief, in homage to Lamar Avenue's past as a Chickasaw trail.1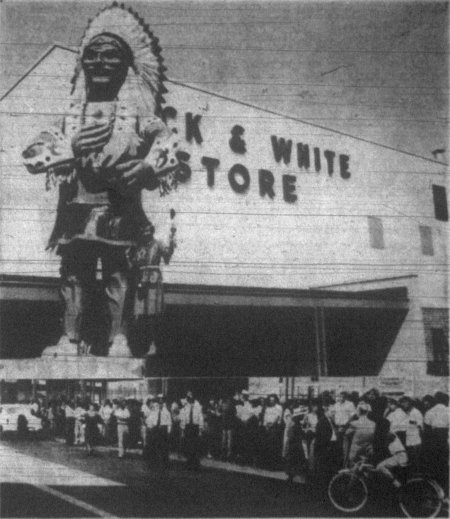 CROWDS GATHERED-Where the Chickasaw Indians once roamed. Memphians came from all directions today to see authentic Indians at the opening of the Lamar-Airways Shopping Center. Top, above, Princess Red Bird of the Choctaw Indians in Philadelphia, Miss., waves to the crowd from the foot of the giant paper and plastic Indian erected near the Black and White store. A sample of the throngs of people that poured thru the 12 new stores in the center is shown below.
Press-Scimitar Staff Photo - Sep. 9, 1954
An advertisement in the local papers prior to the opening advertised (see here for schedule):

Memphis Press-Scimitar - Sep. 8, 1954
Music and Entertainment for Everyone!
Meet the Indian Chief and Indian Princess
See and Hear the One and Only Indian Hillbilly Band
Big three-day gala opening celebration
This Thursday, Friday and Saturday! Be There!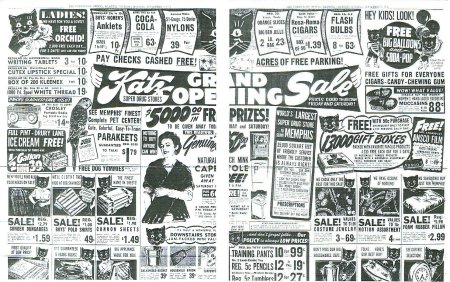 Katz advertisement in the Commercial Appeal - Sept. 9, 1954

-Photo by E. H. Jaffe

REUNION in MEMPHIS- Mrs. Ann Wedlan, who went to work for Katz Drug Co. 40 years ago in Kansas City and was the firm's first employee, came to Memphis to help open the huge new Katz store in the Lamar-Airways Shopping Center. Mrs. Wedlan (second from right) was welcomed by an old friend, Mrs. Sidney Roosin, and her two daughters, Laurie (left) and Anita, who live in Memphis. And a happy participant was Katz chairman of the board, M. H. Katz (pictured at right). Mrs. Roosin is his daughter and Laurie and Anita are his granddaughters.

KATZ BECOMES CHIEF-Chief Wishackchihumma, leader of the Choctaw Indians in Memphis for the opening of the new shopping center, makes Michael Katz, right, an honorary member of the Choctaws. Mr. Katz is one of the officials of Katz Drug Co.
CENTER OFFICIALS-Today was a big day for the owners of the new Lamar Airways Shopping Center. Cutting the ribbon are left to right, Herbert Shainberg, Ben Goldstein, Herman Gruber and Nathan Shainberg. Mt. Gruber is managing agent for the center.

Katz drug, a chain originating in Kansas City was one of the first to redefine the drugstore as we know it today, offering its customers items far beyond the scope of pharmaceuticals. Brothers Mike and Isaac Katz, founders of the drugstore chain, had been operating tobacco and confectionary stores in Kansas City with a 19 hour workday ethic. In 1917, Herbert Hoover, President Wilson's appointee charged with the regulation of food production and service, had decreed that no tobacconist or confectioner could remain open past 6 p.m., unless the business was also a pharmacy. In response, the brothers recruited a retired Kansas City pharmacist to be present for the government inspection, and purchased a handful of medicines for inventory. The brothers were now in the pharmacy business, and the large number of doctors who made their offices in the building's floors above would prove a crucial source of new customers. The company soon spread to the suburbs and throughout the greater Midwest, eventually becoming known as Skaggs and then Osco Drug.2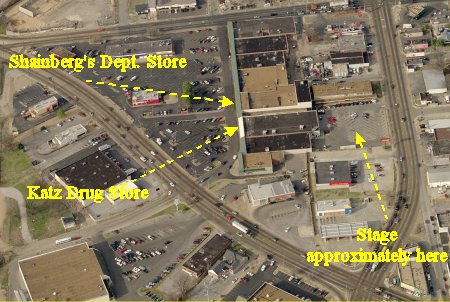 Contemporary aerial view of the Lamar-Airways-Park triangle
Lamar on left, Airways on right, Park on top
Marty Lacker, who knew Elvis in high school and would later become a member of his "Memphis Mafia" in the early '60s was working at Shainberg's Department Store in the shopping center when it opened. Marty said, "there was a walkway in between the two buildings. If you were standing on Lamar and looking straight at the building Katz would be the building on the right and the stage was in the lot behind there on the Airways side. Shainberg's was on the left just across the walkway to Katz."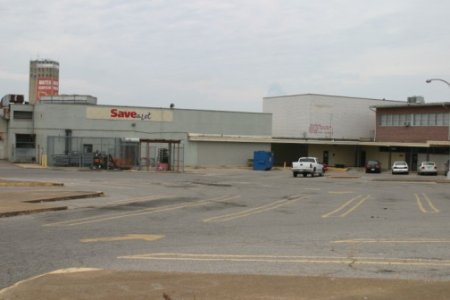 Parking lot from Airways' side where stage was setup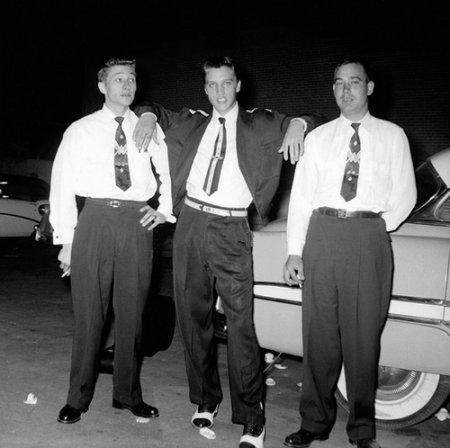 Scotty Moore, Elvis Presley and Bill Black -Memphis September 9, 1954
photo© courtesy O. Walker
Barely two months after the release of their first record and less than a month before their first and only appearance on the Grand Ole Opry, Elvis, Scotty and Bill were still playing strictly small gigs in and around Memphis. They were hired to perform at the grand opening of the shopping center on September 9, 1954. They did so on a makeshift stage built on a flatbed truck in the center's expansive, unprecedentedly large parking lot. Still relatively unknown outside of Memphis the Memphis Press-Scimitar again misspelled Elvis' name, this time with two S's in Presley.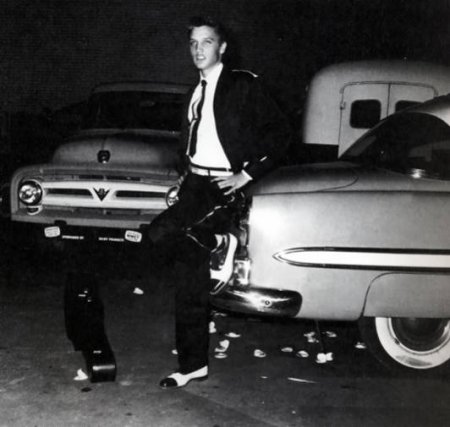 Elvis Presley in parking lot at Lamar Airways Shopping center - September 9, 1954
photo© courtesy O. Walker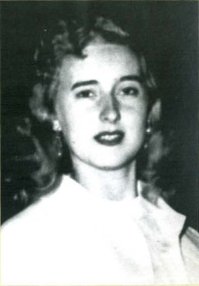 Opal Walker was a young girl from Memphis at the time who was at the show that night and took 3 photos that have since been reprinted in countless books and articles. They are the only known photos of the appearance there though none show the actual performance.
Opal recalls, "Elvis had that one record out, and it was a smash locally, and I loved it. I had a girlfriend who was a friend of Dewey Phillips, the first deejay to play him. My girlfriend and I went down and sat in with Dewey while he did his show, and he told us all about Elvis and where he went to church. You can bet we were at First Assembly next Sunday, and he was there with a friend. After church we flirted with them. He teased me about my long blonde hair."
"This show at Lamar-Airways shopping center came up and I went alone and took my camera. I rode a streetcar, I believe and waited for Elvis to arrive. They all came up in that Chevy, and I asked him to pose and he seemed happy to. There were a lot of people there, but few besides me seemed to know who he was. I had him all to myself. I could have shot a whole roll. But I didn't know then what I know now. He went on stage and started singing and shaking... the girls went wild. Me, too. That was the first time I saw Elvis perform, but I didn't miss any opportunities in the future." 3
In the audience that night was John Evans who at seven years old would listen to Dewey Phillips. When they heard that Elvis would be at the shopping center they went to watch. His brother held him up so he could see and he remembers them dressed as real weird country musicians with Elvis wearing pink and gray. He said, "they had a big string bass and the guy would twirl it around. There was only one amp and it was sitting on a chair with a little guy playing a big guitar." John would later achieve fame playing guitar and keyboards on the first Memphis pop record to go to No. 1: The Box Tops' "The Letter". Incidentally, on the following day, Sept 10, 1954, Buddy Cunningham, the father of Bill Cunningham of the Box Tops, would be the first to play percussion on an Elvis session when he beat on several empty boxes during the recording of "I don't Care if the Sun Don't Shine".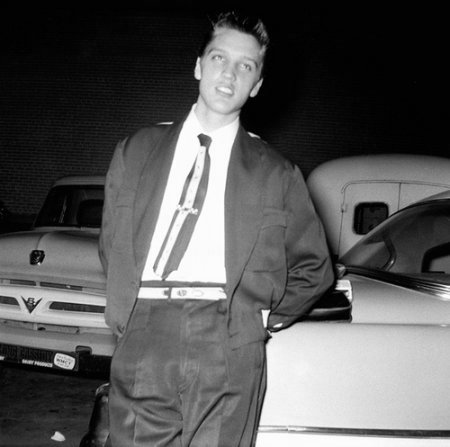 Elvis Presley in parking lot at Lamar Airways Shopping center - September 9, 1954
photo© courtesy O. Walker
Johnny Cash, just recently out of the Air Force, married and relocated to Memphis, was also in the audience that night. In an autobiography he wrote, the first time I saw Elvis, singing from a flatbed truck at a Katz drugstore opening on Lamar Avenue, two or three hundred people, mostly teenage girls, had come out to see him. With just one single to his credit, he sang those two songs over and over. That's the first time I met him. Vivian and I went up to him after the show, and he invited us to his next date at the Eagle's Nest.4

Lamar-Airways Shopping Center from Lamar - 2006
With the completion of the interstates in the 1960s and the introduction of "the Malls", there was a gradual loss of business along the primary roads like Lamar Ave. Today, all the stores that were originally in the Shopping center are now gone and in their place newer smaller chain stores. Shainberg's is a "Family Dollar" store and Katz is a "Save a lot".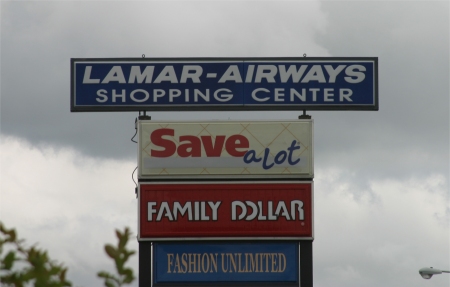 page added November 26, 2007

1courtesy The Memphis Flyer online cover story August 5-11, 1999
2courtesy Kansas City Library
3excerpt from Elvis-Forever In The Groove, Publications International, Ltd. by Susan Doll
4according to CASH: The Autobiography.1997 by John R. Cash
Special thanks to Vikki Hein for her assistance with the ads
---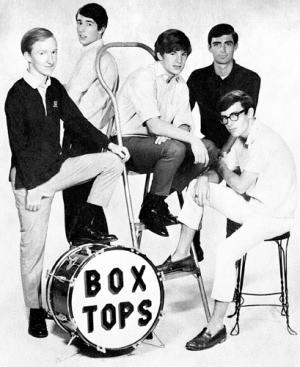 Jon Evans, Bill Cunningham, Alex Chilton, Gary Talley and Danny Smythe
photo © courtesy The Box Tops

The Box Tops - "The Letter"