Elvis Lives! on New iVideosongs Titles

Houndog tutorial (2007) - published on youtube Feb. 2018, added May 2, 2018

That's All Right tutorial ( 2007) - published on youtube Feb. 2018, added May 2, 2018

Don't Be Cruel tutorial ( 2007) - published on youtube Feb. 2018, added May 2, 2018

Heartbreak Hotel tutorial ( 2007) - published on youtube Feb. 2018, added May 2, 2018
Hound Dog, Jailhouse Rock and Heartbreak Hotel Among New Titles Added to iVideosongs Catalog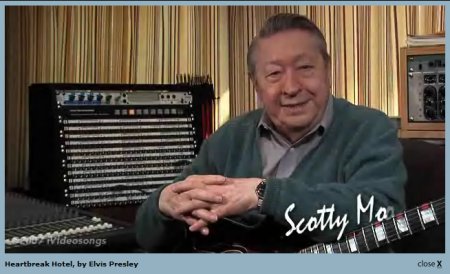 ALPHARETTA, Ga. - April 8, 2008 - iVideosongs (www.ivideosongs.com) announced today the addition of five Elvis Presley songs to its growing catalog of high def music instruction videos. The new songs, Don't Be Cruel, Heartbreak Hotel, Hound Dog, Jailhouse Rock and That's Alright, feature Elvis' original band mates, guitarist Scotty Moore and drummer D.J. Fontana.
iVideosongs is the new service that shows aspiring musicians everywhere how to play their favorite songs completely and accurately, with the instruction provided by the original artists who wrote, performed and produced them, and also from expert instructors.

It's hard to over estimate the impact and influence of Elvis Presley and his band. John Lennon is famously quoted as saying that without Elvis, there would have been no Beatles.

Without guitarist Scotty Moore, legends like Eric Clapton, David Gilmore, Mark Knopfler and Jimmy Page would have sounded very different. Scotty of course was Elvis' guitar player, and he was a major influence on the generation guitarists that later came to define the rock music of the 60's and 70's.

In new releases this week, we're really fortunate to have Scotty showing us his guitar magic on several Elvis classics as well as sharing some priceless stories that take you back stage, on the road and in the studio with Elvis and his band.

Along with Scotty, we bring you DJ Fontana, the great drummer for the original Elvis Presley band. This cat still has chops and he did an outstanding job showing us how to play the drum parts on several early Elvis tunes. As Scotty did, DJ shares some insightful stories about making music with The King that you won't want to miss.

The music that Scotty and DJ talk about and show how to play is raw and authentic - this is the Elvis of the mid-late 1950's when he was creating a masterful brew of Country, Blues and Gospel that came to be known as Rock and Roll.

The songs we shot with Scotty and DJ include Heartbreak Hotel, Hound Dog, Jailhouse Rock, Don't Be Cruel and That's Alright Mama. Without question, these songs are the bedrock of Rock and Roll. Seeing these master musicians show their craft and share their stories was a life changing experience for me and I am thrilled that we are able to share it with you.

There are many amazing musicians that made a mark on the early days of Rock and Roll, but none shine brighter than these two giants. Scotty Moore and DJ Fontana up close and personal. We hope you enjoy.

Tim Huffman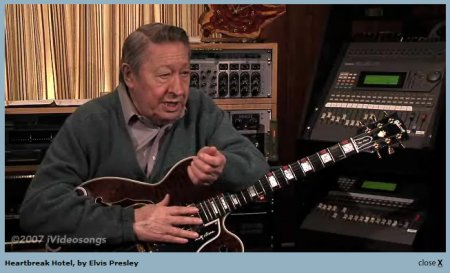 Hound Dog Preview

Jailhouse Rock Preview
"Playing these songs is a reminder of the raw power of Elvis' early music, when he was a young rocker and before he became the cultural icon," said Tim Huffman, CEO of iVideosongs. "Scotty Moore and D.J. Fontana were a big part of the Elvis sound. On these iVideosongs titles, Scotty and D.J. show how to play these great songs and they bring them to life with stories about the king and his music."
iVideosongs has licensed full rights to its songs from BMG Music Publishing, EMI Music Publishing, Sony/ATV Music Publishing, Universal Music Publishing Group, Warner/Chappell Music and also many secondary and tertiary publishers. This allows the company to provide complete and accurate instructional titles, presented exactly as they were originally written and performed. The iVideosongs titles are primarily for electric and acoustic guitarists, but titles for bass, keyboards and drums are also included in the catalog.

iVideosongs offers three kinds of music instruction content. Tutorials designed to improve basic to advanced skills are available free of charge. Complete and accurate songs, instructed by professional music teachers cost $4.99. Complete and accurate songs, taught by the original artists who wrote, performed and/or produced them, cost $9.99.

iVideosongs customers can choose a skill level and genre, and then download the high- def titles to their personal computer, iPod or other device. Each song title is presented in chapter format, so aspiring musicians learn the introduction, verse, chorus, bridge, outro and other elements in bite-size pieces and at their own pace. Each title also includes a master performance so customers can compare their progress against the song, and tablature notation to aid in learning. Titles featuring artists also include an interview segment, where they reveal the inspiration and influences that went into the creation of the song.

iVideosongs launched the beta of its service this past January 29, 2008.

About iVideosongs
iVideosongs is the pioneering music instruction service that enables aspiring musicians of all skills levels to learn how to accurately play complete songs from the original artists who wrote and performed them, and also from legendary side-men and a staff of exceptional instructors. iVideosongs on-demand, high-def video titles live on customer'' computers, iPods and other devices, and are accessible to them whenever and wherever they like. Visit www.ivideosongs.com to start learning today.
Please note that iVideosongs is not affiliated with Scotty Moore or this website beyond their collaboration on these songs. Any and all inquiries regarding the songs and the service should be directed to iVideosongs and their website.