Elvis' 1964 Gretsch Country Gentleman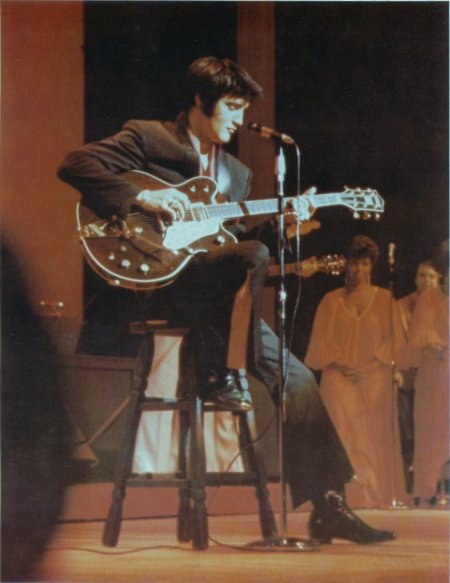 Elvis onstage with his Gretsch Country Gentleman
Photo courtesy Paul Lichter's "The Boy Who Dared To Rock"
During at least the early part of 1970 Elvis often performed in concert on stage with both his 56 J200 and this 1964* Gretsch Country Gentleman, model 6122, serial number 80736. Originally developed as a signature model by Gretsch for Chet Atkins, it is similar in features to the one used by George Harrison of the Beatles, most notably the double flip-up mutes. This model however features a Super'Tron II pickup with bar/blade pole magnets in the neck position as opposed to another 12-pole Filter'Tron as in the bridge position. It also has the large, semi-rectangular, ("kidney"), tuner buttons rather than the stair-stepped Grover Imperial buttons. These features are typical transition 1964 era, since they had dropped the double mutes in favor of a single lever type, phased-in about '65~'66. This is consistent with the Beatle "trickle-down" effect of increased demand and production, since by 1967 production was dramatically higher, and thus '67 Gents are more common today.

Elvis' 1964 Gretsch Country Gentleman, #80736
Photo © courtesy EPE, Inc.

headstock faceplate on Elvis' Gretsch #80736
The earliest double cutaway Gents actually had double "screw-up" mutes that featured knobs as large as the volume knobs. The finish on these early ones is usually a dark walnut over very flamey maple veneer. Another trait that is never noticed, is on the early "screw-up" versions and only the earliest "flip-up" double mute models, the lower volume controls and standby switch are almost in a straight line. Later production "flip-up" double mute models, and all subsequent single mute Gents have these controls mildly following the curve of the lower bout. These, and later doubles mute models, have black felt pads under the mute controls, whereas the earlier models had red felt. The same batch also have "THE" as the first and highest line of engraving on the headstock plaque, and the serial number as the lowest line. Later production models read just "Chet Atkins Country Gentleman". They all featured a snap on leather pad on the back. It hides the plastic trap door cover that allows access to the inside of the body.**

Houston, TX February 28, 1970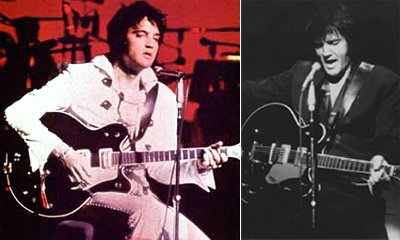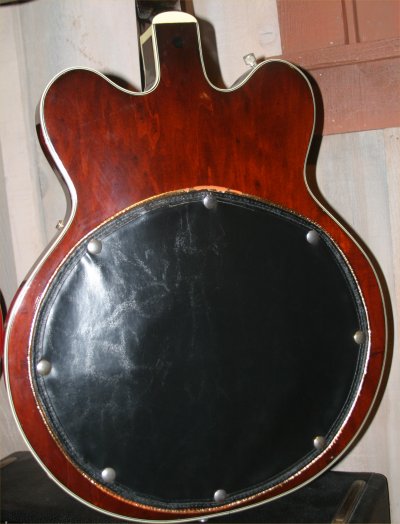 rear of a Gretsch Country Gentleman 6122 (like Elvis')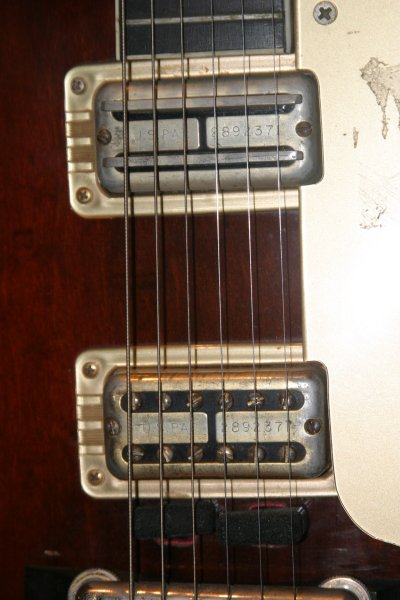 SuperTron II and FilterTron pickups (like Elvis')


Grover "kidney" tuning keys (like Elvis')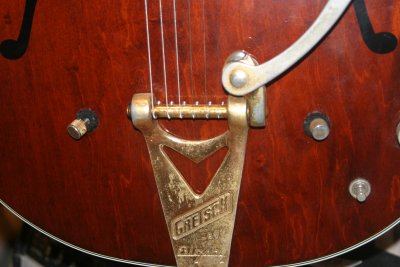 Double flip-up mutes (like Elvis')
Coincidentally the Filtertron pickups were developed for Gretsch by Ray Butts, the same man who made Scotty Moore's Echosonic amplifier and the pickups in his Gibson Chet Atkins guitars. This guitar is still part of Elvis' collection on display at Graceland to this day.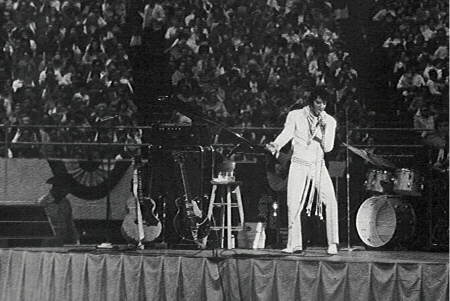 Elvis on stage with J200 and Gretsch CG - Houston, TX - March 1, 1970
Photo© courtesy Eter Silvester from Vienna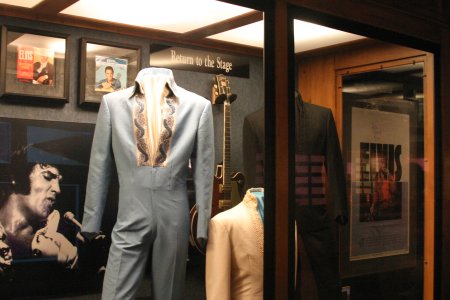 Elvis' Gretsch on display at Graceland
*it's been suggested that this guitar is possibly a 1965 model based on differing views of serial number identification and features, opinions vary but unfortunately the only way to confirm it is to look at potentiometer codes.
**courtesy Roy Goode of GoodeSound, Inc.