Challenge: Elvis Birthday cakes
"This is the winning entry in the Food Network Elvis Birthday Cake Challenge. It was created by Mike's Amazing Cakes of Redmond, Washington. It took place on November 10th, 2005 on the grounds of Graceland and the show will air February 23rd, 26th, 28th, and 29th.

Our first guitar seen on the left is a 1955 Martin D-28, purchased at O.K. Houck Piano Company in Memphis. The leather cover was made by a piano repairman who worked at O.K. Houck. At some point, the hand-tooled leather around the sound hole was trimmed back due to interference with Elvis's strumming. Although he only used this guitar for one year, we included it for the very intricate leather cover, and the fact that this guitar shows up again and again in the many photos and memorabilia generated about that time.

Our second guitar seen in the middle is a 1956 Gibson J200. Its two custom features are the "Mod" black pick guard and "Elvis Presley" inlaid on the fingerboard. Elvis used this guitar in recordings, movies and live performances from 1956 through 1971. It is said that this was the guitar Elvis favored most for the rest of his career.

Our third guitar is a 1963 Gibson Super 400. This guitar is probably best remembered for being borrowed by Elvis from Scotty Moore on stage during the 1968 NBC T.V. "Comeback Special". It is featured in the many photos and images of Elvis from that show. Scotty Moore first met Elvis working for Sam Phillips at the famous Sun Studios in 1954. Moore played lead guitar when they recorded the single "That's Alright". Many rock historians regard this session to be one of rock n' roll's most important events in that the popularity of the song permanently altered the pop music landscape as well as launched Elvis's career. The recording session at Sun Studios marked the beginning of Moore's 14 years as Elvis's lead guitarist, ending with the 1968 NBC Special.

As we leave the guitar hall of fame, we move up the cake and come to the gates of Graceland. The wrought iron gates and brick pillars were originally built for $3,052.00 and are periodically pressure washed due to the loving graffiti left by thousands of adoring fans every year.

As we go through the gates, we move up to Graceland itself. Built of Tennessee limestone, the mansion, purchased by Elvis in March 1957, was at the time of the sale used by the Graceland Christian Church for prayer services. Needless to say, this is the Mecca for hundreds of thousands of fans every year. As a residence, Graceland is second only in visitor numbers to the White House.

We end our tour at the top with the official logo for the Elvis Insider Fan Club. Besides being a very interesting design, we liked the fact that the sunburst pattern behind the Elvis silhouette is reminiscent of the Sun Studios logo, the place where it all started for Elvis back in 1954."
Mike McCarey
Mike's Amazing Cakes
---
In December of last year I was contacted by High Noon Entertainment of Colorado who were working on the "Challenge" Series for the Food Network. They recently held a cake competition at Graceland called Elvis Birthday Cakes in which the winning cake was to be made for Elvis' birthday party coming up there soon. Six cake decorators or pastry chefs competed for $10,000 in a quest to create the most amazing birthday cake for Elvis. The competition lasted seven hours and the chefs faced three judges.
Mike McCarey, of Mike's Amazing Cakes in Redmond, WA said that he created his template from some pictures he saw on Scotty's website. The Network asked them to see if they could use those photos in the production so that they could show how realistic the cake turned out. They needed the pictures in high resolution as the show is being produced in High Definition. I was more than willing to comply as was Dick Boak of the Martin Guitar Company and they were able to use 3 that I sent them representing the Martin with Leather cover, the 56 J-200 and Scotty's 63 Super 400.
The 3 used were: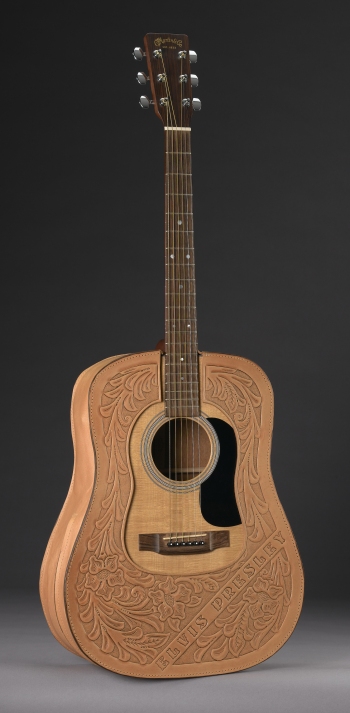 Elvis cover w/ D18
photo © courtesy Dick Boak, Martin Guitar Co.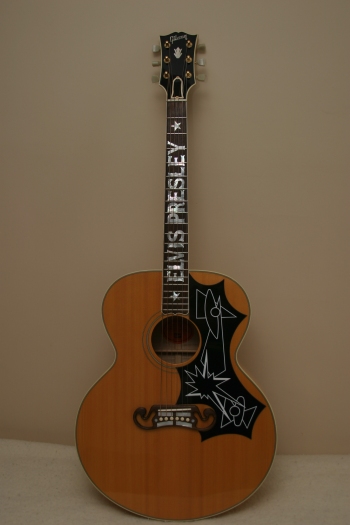 Elvis Ltd Ed. J-200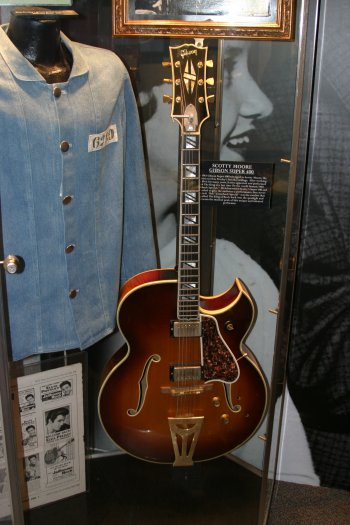 Scotty's 63 Super 400
After seeing some pictures of other cakes Mike has done on his website at www.mikesamazingcakes.com its going to be fun to see what he came up with. We hope to have some picture's of Mike's cake here soon and his story about his design. Until then be sure to check out the show on the food network later this month. Check your local listings for stations.
AIR TIMES:
January 22, 2006 10:00 PM ET/PT
January 23, 2006 2:00 AM ET/PT
January 26, 2006 9:00 PM ET/PT
January 27, 2006 1:00 AM ET/PT
January 28, 2006 6:00 PM ET/PT
January 29, 2006 3:00 PM ET/PT

Congratulations Mike!
James V. Roy
January 16, 2006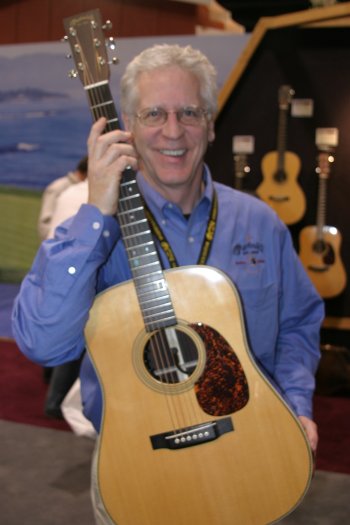 Dick Boak, Martin Guitars