Recording with Alvin Lee
Hello, again, this is Gail, Scotty's companion (keeper), and I'd like to tell you about something Scotty has just finished. The first of April, Scotty was visited by a friend of several years, Alvin Lee of "10 Years After", and they did a project together at Scotty's home studio.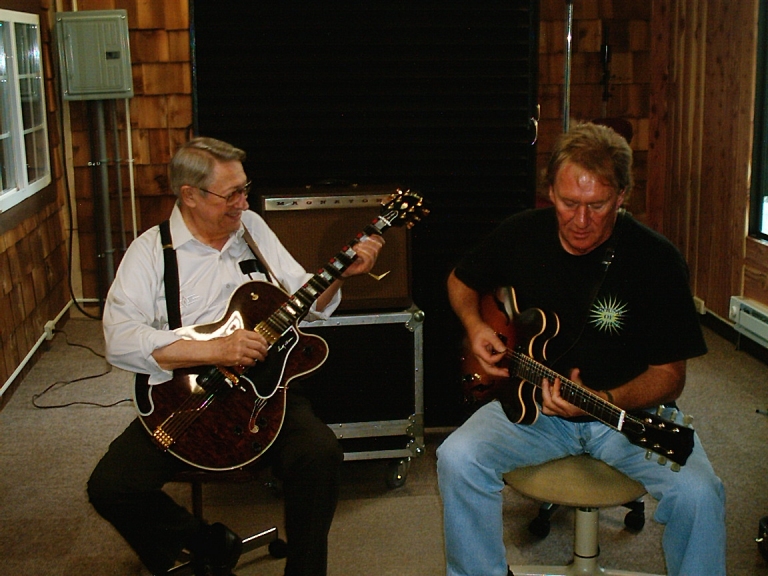 Scotty and Alvin Lee
Photo© courtesy P. Pritchard
These two great guitar players first met in 1989 when Alvin was in Nashville. He came to our office (Scotty was owner and I was manager of Independent Producers Corp. in Nashville) and met Scotty and I made pictures of the two of them in front of the office. In 1999, Scotty was at Sir George Martin's Air Studios in London for the opening party for the Gibson Guitar International Office. He and his English band did a set, then invited people in the audience onto the stage to jam with them. Alvin was the first one up.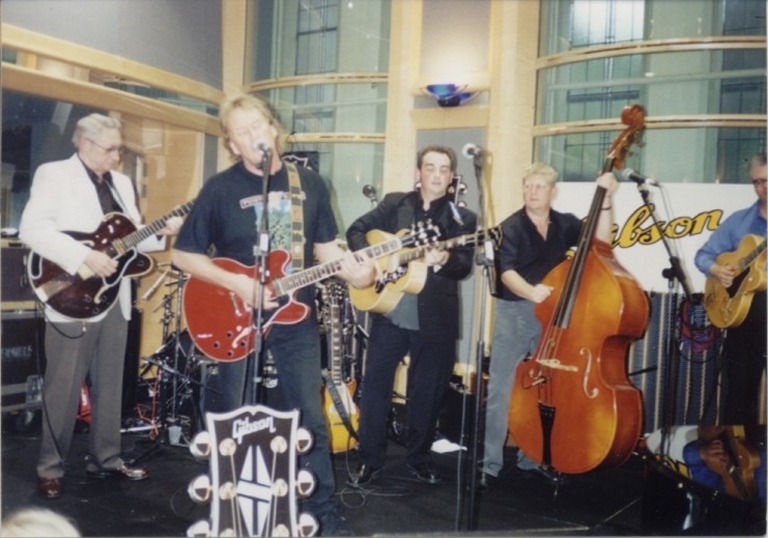 Scotty, Alvin Lee, Ian Conningham, Pete Pritchard and Peter Davenport at Air Studios - July 13, 1999
We made more pictures of the two of them together, and Scotty signed them "To Alvin, 10 years after", as this was the 10th anniversary of Alvin's trip to Nashville. Since then we have been in touch occasionally, and a few months back Alvin said that he'd like to do an album project with Scotty and D.J. Fontana, who was also with them in London. The trip had to be put off because of Scotty's illness earlier this year, but Alvin and Evi (his beautiful lady) arrived in Nashville in late March, and the sessions started at Scotty's house on April 1.

Pete Pritchard. D.J. Fontana, Alvin Lee, Stan Dacus, Willie Rainsford and Scotty
Photo© courtesy P. Pritchard
The musicians were a neat mixture—Alvin on lead guitar with Scotty guest appearing on two cuts, D.J. on drums (you should have heard him do THREE cuts of a song that was 7 minutes long! That old guy is tough!) , our good friend and Scotty's English bass player, Pete Pritchard, who came over from Jolly Old England just for these sessions, and Willie Rainsford on keyboards. Willie is a great friend of Scotty's and is featured on both "Moore Feel Good Music" and "706 ReUnion" with Scotty and Carl Perkins. Scotty has always said that to do a really good session, choose musicians who know what they are doing and then leave them alone. The engineers were Stan Dacus, another old friend (he had done sessions with Alvin at Mylon LeFevre's studio in Atlanta in the 70's). He had some old pictures of Alvin (handsome out of his mind) and Stan ( so young, and hairy out of his mind - 70's, remember). Alvin got a good laugh and Evi got a view of Alvin she had not seen, since they have been together 11 years, not back in the 70's.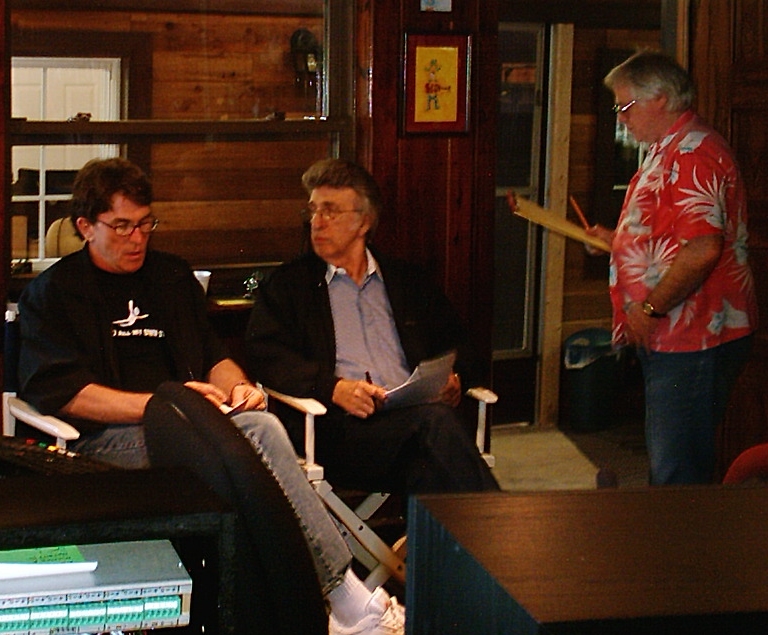 Steve Shepherd, D.J Fontana and Willie Rainsford
Photo© courtesy P. Pritchard
The second engineer was Steve Shepherd, also a great keyboard player and Scotty's engineer-in-training for his studio at home.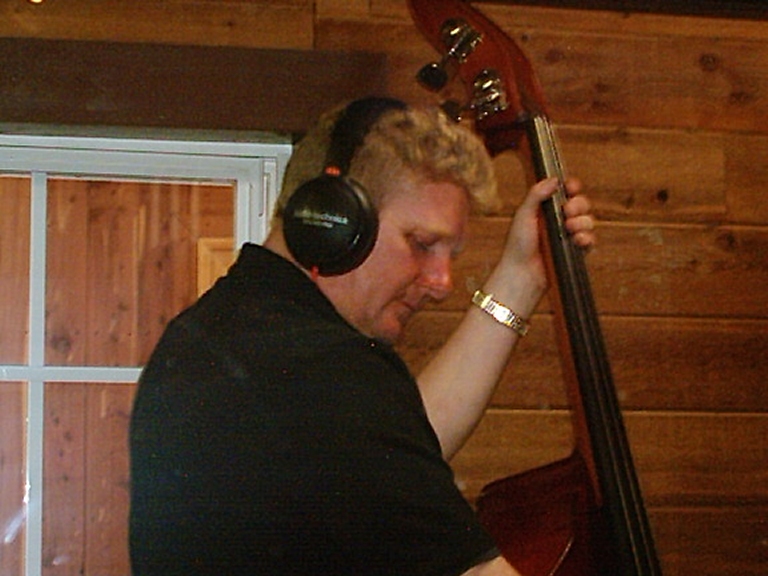 Pete Pritchard
Photo© courtesy P. Pritchard
The songs they cut were quite a departure from what some of Alvin's fans will recognize as his style. This is much closer to old rock and roll, like D.J. and Scotty did with early Elvis material. Just good old 'shake it baby' music. The tracks and Alvin's vocals were done, along with Scotty's over-dubs. Alvin is taking the tracks home to England to do the final work on his guitar, but they will be great when they are done. His manager is speaking to a couple of labels about putting it out, and when it is ready we will announce it on this site and if possible make it available for sale here on the site. If we cannot sell it, we will let you all know where it can be purchased, as it will be well worth it.
We were all together for lots of meals in addition to the sessions. I love to cook, and they had to suffer through lots of Southern Barbeque (pork, chicken, whatever) and steaks on the grill. Evi also is quite a cook, but she specializes in small, very careful dinners for two or four, while I mostly cook for a crowd. We had a great time together, and hope they come back.
While they were here, Alvin and Evi visited the new Valley Arts Showroom where Gibson has put in a facility to sell and service both Gibson and all other makes of guitars and amps. Mickey Butler, the manager of the store, gave them a grand tour ( Scotty and I had already had ours) and then we all went around the block to the new Baldwin Piano store (also property of Gibson) and saw a little of a taping for Charlie Daniels that was going on there. Turned out, Alvin had done a show years ago in England with Charlie and Scotty knew him from Nashville, so it was old home week for the guys.
Mickey Butler loaned Alvin a Gibson 335 guitar and a couple of amps for the sessions, since Alvin does not like to send a guitar overseas. Too much wear and tear and handling, since a 335 is too big to go in the overhead storage. Also, the people at Gibson very graciously re-strung a 6-string bass that Scotty had acquired some time back so they could use it on the sessions. If you're in Nashville, you should visit Valley Arts if you are a musician, even if you don't want to buy something…it's a very neat and quite unique place…Mickey and Al are great!
Alvin and Evi and Scotty and I also went out to eat a couple of times…do you get the idea that there was as much food as music on the tour? Before the guys left, they gave us a couple of just beautiful gifts…an elegant candlestick for me and an oversize magnifying glass for Scotty…signed "Scotty, always larger than life…best regards, Alvin." I'm sure you know that Scotty has trouble with his eyes, and Alvin's gift was a hoot in addition to a real help to Scotty.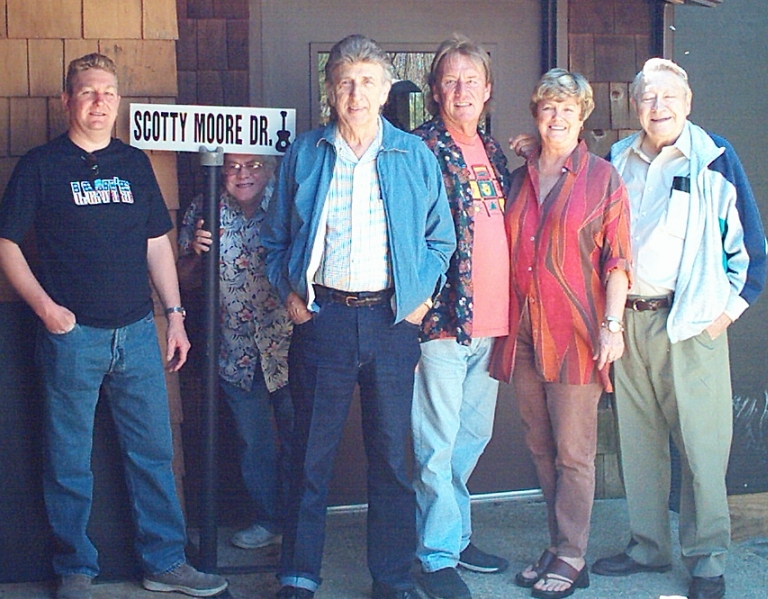 Pete Pritchard, Willie Rainsford, D.J. Fontana, Alvin Lee, Gail and Scotty
Photo© courtesy P. Pritchard
A good time was had by all during this visit, and we hope that Alvin and Evi liked Nashville enough to come back…we were even encouraging them to look at houses here! Wouldn't that be great!

Gail Pollock
April 2003
"Alvin Lee in Tennessee" on sale now in the UK on Repertoire Records and on Rainman Records in the US (available at Blue Storm Music). Check his website for updates and details.
James V. Roy
April 2004