Swindon Arts Centre
Pete Pritchard and Gail were kind enough to hook my friend Ron Garson up with a ticket to one of the shows while on tour in the UK., the March 2, 2004 show at the Swindon Arts Centre. Scotty and Gail had both met him at the 2003 Summer NAMM show and had invited him to dinner. This is his email to me about last nights show and visit.
James V. Roy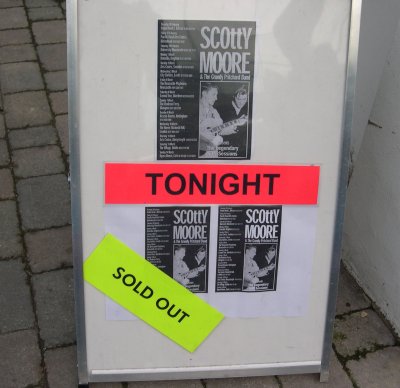 Hi Jim, Everyone over here says Hi and sends their best wishes!
Swindon Arts Centre is a recently renovated building which used to be an old theatre and workshops. It is now very smart and comfortable. The theatre itself has 213 seats and last night all seats were sold out. Standing is not permitted.

The theatre acoustic is very natural and Scotty and the Grundy Pritchard band sounded very good, with a very good balance. Not like some venues, Scotty told me, where the ceilings are low and the sound is compressed. The band's playing was as tight as you could ever hope for, with Dave Briggs coaxing some killer tones out of his Les Paul.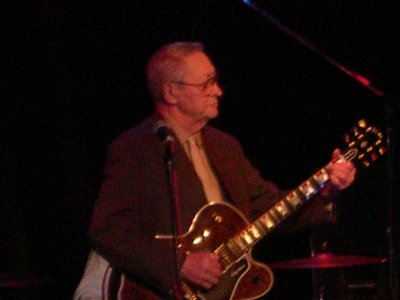 photo courtesy Ron Garson
Scotty's tone and phrasing was just as always, very recognizable. He hasn't yet got back all the dexterity and accuracy he had before his operation, but that is coming along well and I felt that his playing was getting better even as the show progressed. On a couple of occasions where Scotty hadn't been happy with his solo, he had Paul "The Cat in the Hat" re-do a verse so that he could have a second "take" and then he always nailed it.

Throughout the show Scotty's humour was obvious and he looked both well and relaxed!

There's just a little thumbnail of the show!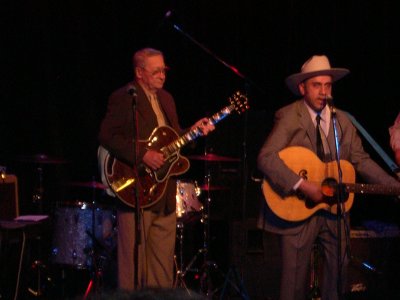 Scotty and Paul Ansell
photo courtesy Ron Garson
I was let into the theatre quite early by the theatre manager, so I probably had an hour and 20 minutes before the show was supposed to start. Scotty and the band were still sound checking on stage and Gail was standing by the front row of seats. After hello's and a hug, I gave Gail the folder containing all the stuff I'd printed out from the guestbook and she then started going through it. Scotty finished the check and went to the dressing room and Gail and I went on back to join him. So the three of us just chatted and they read the stuff from the site for a while. Then we had to leave Scotty so he could shave etc and Gail and I went out and she introduced me to all the band, although Pete obviously knew who I was, and I hung with them until the show started. The theatre manager (very helpful lady) then told me where my seat was and I had to disrupt the whole row of people (of course) getting to it. I was very nearly at the back of the theatre and right against the wall. Not really bad from the point of seeing the stage well, but made pic taking a complete non event. I tried to take quite a few pics, but they're useless. Too far for the flash to do anything and to get a single of Scotty I was going into the digital zoom area, so there just wasn't light enough for an exposure. Maybe someone closer to the front got better pics and will send them in. In a club you can move around and get closer, but that was impossible here.
When Gail came on to give her little chat to the audience, she mentioned that there was a friend, Ron Garson from Maidenhead there and said that I had visited them in TN and had a chicken dinner with them!!

Gail and Scotty backstage
photo courtesy Ron Garson
After the show, and all the public had gone, I went backstage again, and again spent a little while with the band. Finally back in the dressing room with Scotty and Gail and then gave them a hand with their belongings.

When I mentioned Roberts Western World, in connection to yourself, Scotty took a great delight in telling us about the day after you were there with the band when you checked out of the hotel, and then checked back in again to recover!

Scotty and Ron backstage
photo courtesy Ron Garson
I've added a couple of pics, but they aren't great. Apart from that, I had a very good evening, and I would say that we are definitely on course for another chicken dinner in July!
Ron Garson
March 3, 2004