1966 Harley-Davidson Chopper
Elvis Presley's Motorcycles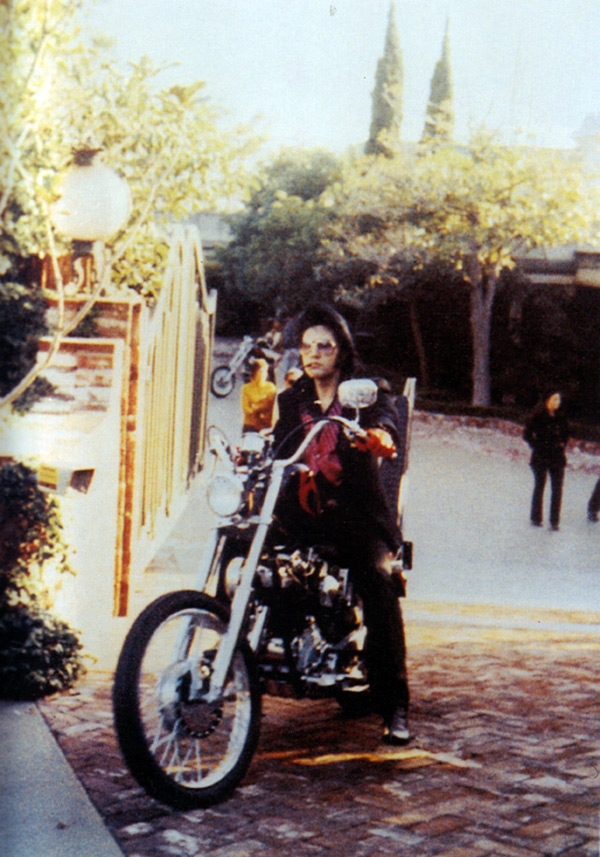 Elvis on his Harley Chopper leaving 1174 Hillcrest in Beverly Hills. - ca. 1971
Photo courtesy web
The late sixties saw the emergence of the Chopper craze which was further fueled no doubt by films like Easy Rider in 1969 and C.C. and Company in 1970 the latter of which coincidently starred Ann Margret, who dated Elvis and rode motorcycles in real life. The craze was not lost on Elvis either and while living in California he had a chopper of his own.

Elvis and Priscilla leaving 1174 Hillcrest in Beverly Hills on his Harley Chopper - ca. 1971
Photo courtesy web
A Chopper, or chopped motorcycle is/was in its essence a motorcycle that, like a bobber, was stripped down of its aesthetic and comfortable components to its basics and customized. It has since become almost synonymous with one that has extended front forks, usually far forward of the handlebars and raked to reduce excessive height and improve control as a result.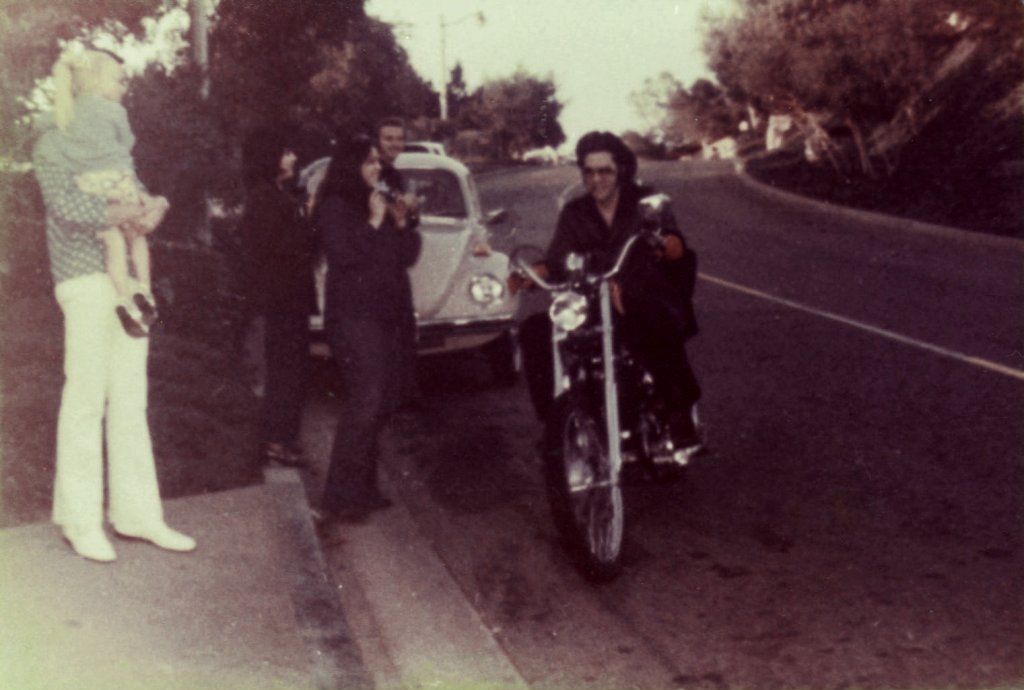 Elvis on his Harley Chopper entering 1174 Hillcrest in Beverly Hills. - ca. 1971
Photo courtesy FECC/Kingcandid
Elvis owned what's been identified by Ron Elliott of Super Cycle in Memphis as a chopped 1966 Harley-Davidson Shovelhead FLH with Sportster style (XL) tank. It has an extended air glide front end with custom narrowed triple trees, not raked, and a 21" wheel with a stock '66 drum brake in front.1 It also appears to have a sportster rear fender and struts. Black with red designs it features a sissy bar with a custom high rise seat, a popular look at the time. Harley-Davidson also got in on the craze about the same time and did something similar with the development and introduction of the Super Glide, or FX series.2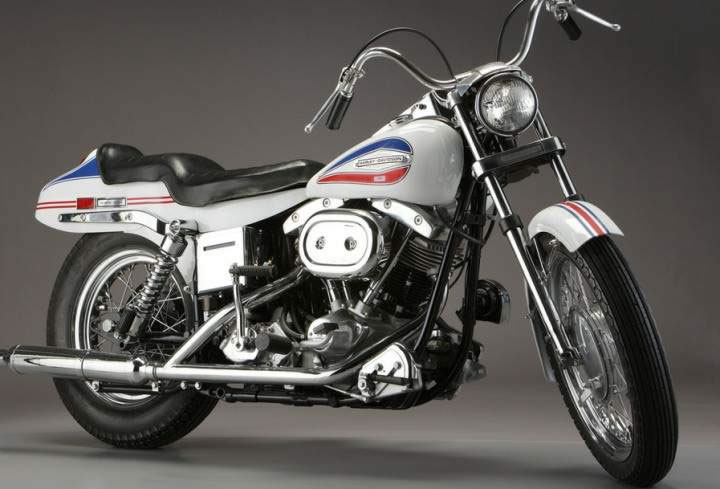 1971 Harley-Davidson FX Super Glide
Photo courtesy MCS
Combining the FL's frame, rear suspension and 74ci Shovelhead engine with the XL Sportster's front fork assembly, smallish headlight and 19-inch front wheel, Willie G. Davidson created the 1971 FX Super Glide, a bike that would capitalize on the "chopper craze" and save Harley-Davidson. Wearing a fiberglass "boat tail" fender washed in patriotic red, white and blue trim, Fat Bob tanks and kick-start only, the FX Super Glide is generally credited as the first factory custom. A change to a more standard Sportster seat and rear fender in 1972 boosted sales, as did the introduction of the electric-start FXE Super Glide in 1974, whose sales dwarfed the kick-start model.2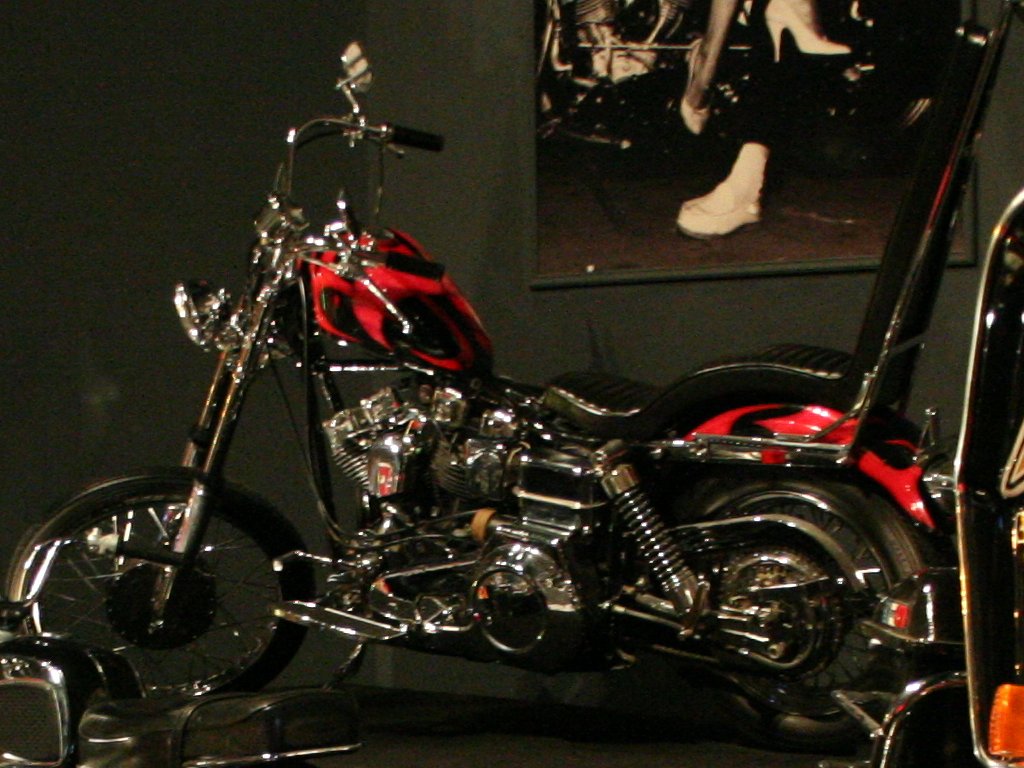 The Harley Chopper in the collection at Graceland - Dec. 17, 2008
Photo © Paul & Kelly
Recent years have seen a resurgence in popularity for choppers and a significant growth in the custom built market no doubt in part with the popularity of cable shows like American Chopper, Orange County Choppers and companies like West Coast Choppers. Scotty even posed on a specialty one several years back at the Gibson Custom shop.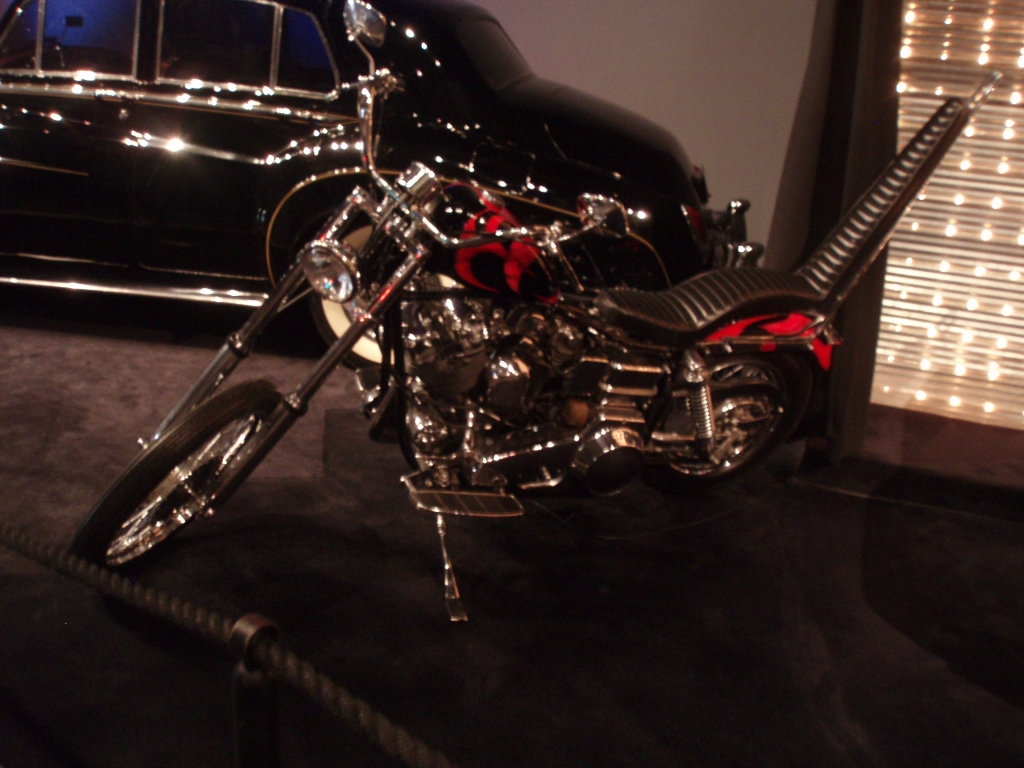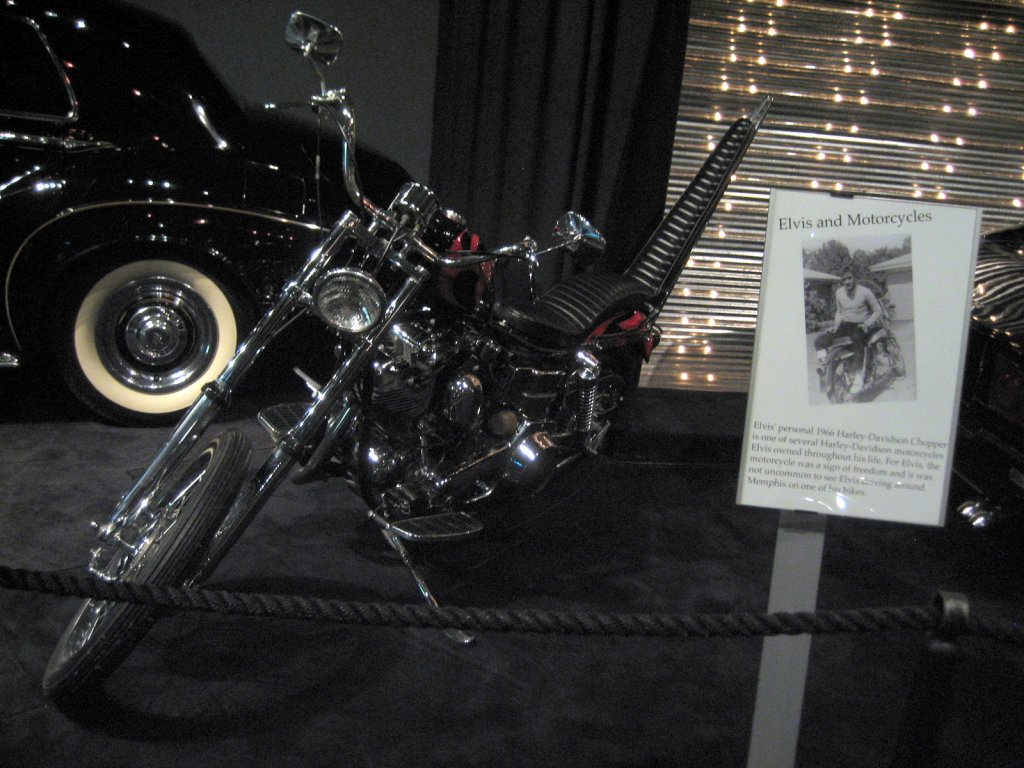 the Harley Chopper on display at Graceland
Photos © Russ Glasson Mar 25, 2009, and Cherie
Elvis' Chopper is now part of the collection in Memphis and has been on display in the Auto Museum there across the street from Graceland.
page added October 5, 2015
1 according to the engine number obtained when this bike was one that was worked on by Ron Elliott at Super Cycle in Memphis in the early eighties.
2 according to or excerpt from 1977 Harley-Davidson Confederate Edition - The Forgotten Soldier By Chris MacMahan Jan/Feb 2009 courtesy Motorcycle Classics