1965 Harley-Davidson FLH Electra-Glide
Elvis Presley's Motorcycles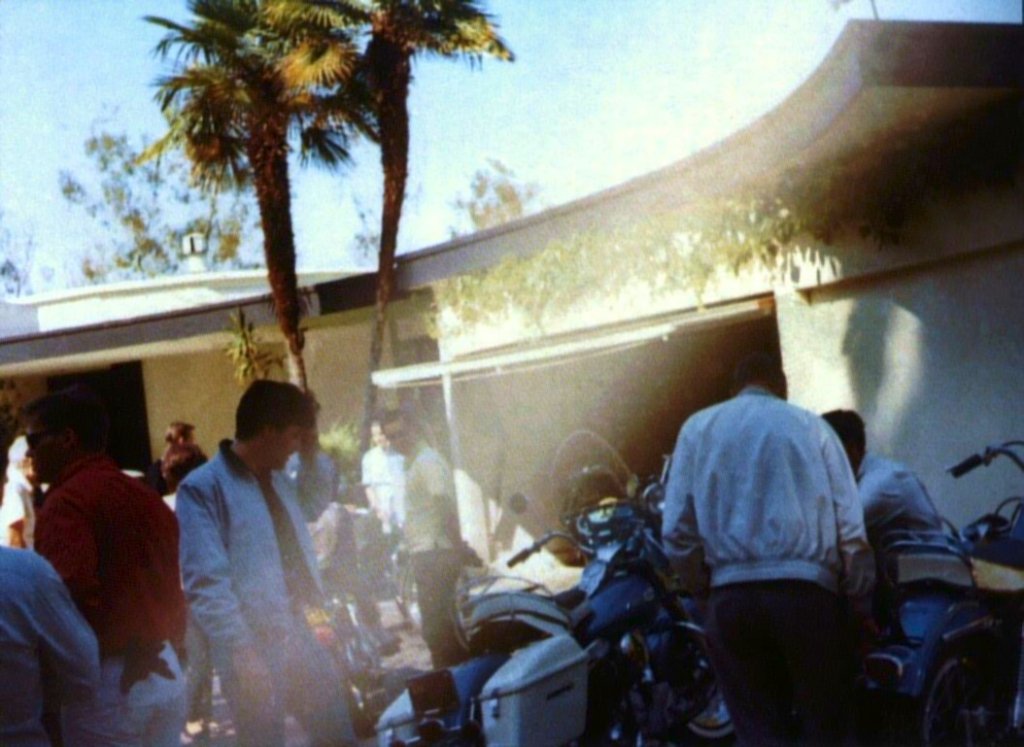 The Harley-Davidson FLH (and Sportster) with Elvis and entourage at Perugia Way - April 1965
Photo courtesy Brian Petersen
It was said that in April of 1965 after seeing Jerry Schilling's Triumph Elvis liked it and bought several, reputedly nine, for the group so they could all ride together. Living in Bel Air, on Perugia Way at the time, they started trailering the bikes in and out of the gates after the neighbors got up a petition about the noise from the motorcycles.1 Elvis though, was only ever pictured riding a Triumph himself, as far as we know, in the 1968 film Stay Away Joe. Among the bikes at Perugia Way that April, which included at least Triumphs and Harley-Davidson Sportsters, was a Harley-Davidson FLH that more fit his preference.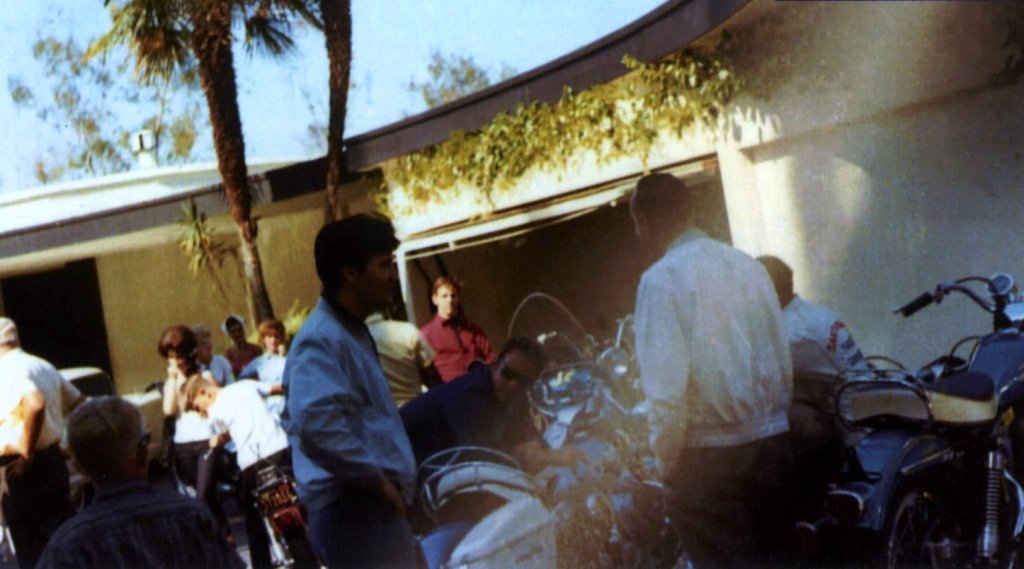 The Harley-Davidson FLH (and Sportster) with Elvis, Billy Smith and entourage at Perugia Way - April 1965
Photo courtesy Brian Petersen
The bike appears to be a blue 1965 Electra-Glide. Unfortunately though there is not enough details in the photos to specifically distinguish it from a 1964 Duo-Glide or possibly even a 1963 given the tank emblems. However, since 1965 was the first year for the Electra-Glide, the name chosen because of the introduction of the electric starter, it makes sense that Elvis would likely have one of the latest and greatest. In October, Elvis would upgrade again.

The Harley-Davidson FLH with Elvis and Entourage at Perugia Way - April 1965
Photo courtesy Brian Petersen
In actuality Harley-Davidson had introduced the electric starter first on the 1964 Servi-Car (trike model). The electric starter made life easier and broadened the appeal of motorcycling. Wrestling with a kick-start engine could be difficult, and the electric start quickly took over. As the 1965 sales brochure read, "We've taken a few of the kicks away, but none we thought you would miss".2 The model still came equipped with a kick start for several more years.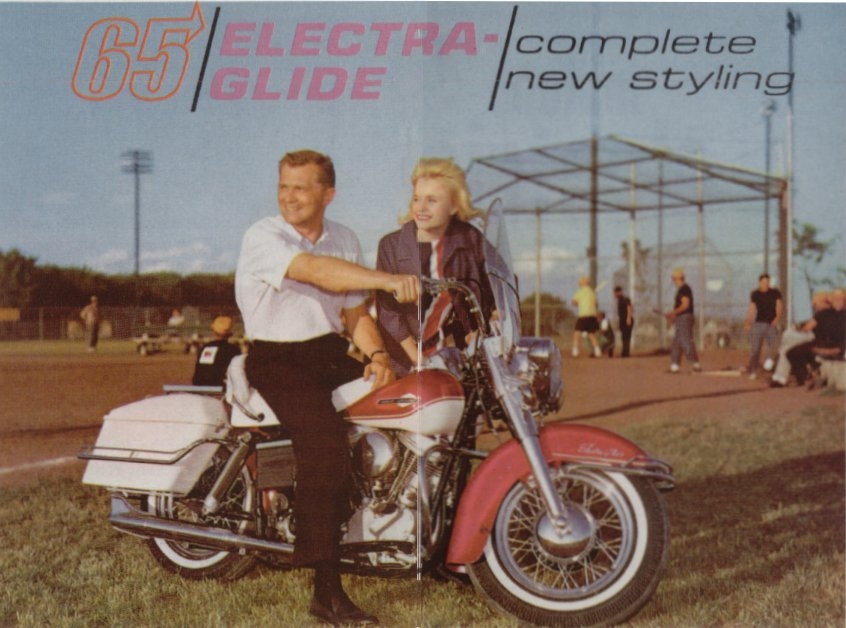 Advertising for the new 1965 Harley-Davidson FLH Electra-Glide
Photo © Harley-Davidson, courtesy HOG Magazine 031 2015
The Big-Twins were given 12 volt electrical systems in 1965 to power the electric starters but it was the last year for the Panhead motor. The one at Perugia Way is clearly a Panhead. That bike is also equipped with a two-tone buddy seat and tinted windshield (available since 1957 in red or blue) along with the newer style streamlined saddle bags, though lacking the decorative bag guard rails. That particular bike has the same Harley-Davidson emblems on the side of the saddle bags as it does on the tank, a feature not too common but seen on some 1964 and 65 FLHs.


1965 Harley-Davidson FLH Electra-Glide
Photos courtesy McKay's Cycle Creations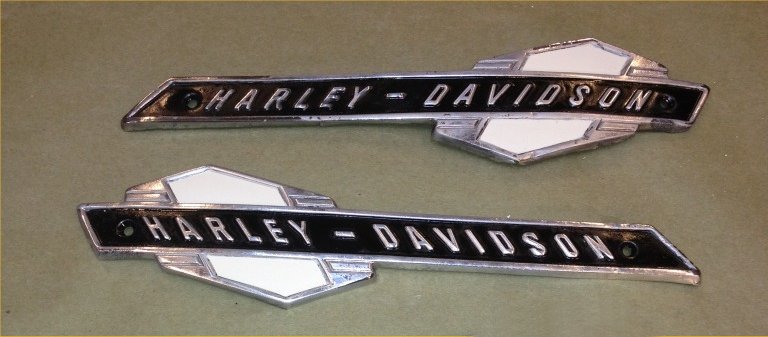 Harley-Davidson tank emblems for 1963 through 1965
Photo courtesy Classic American Iron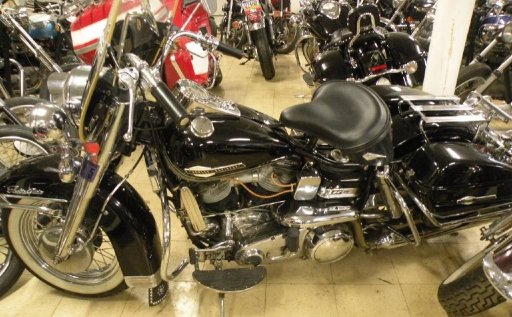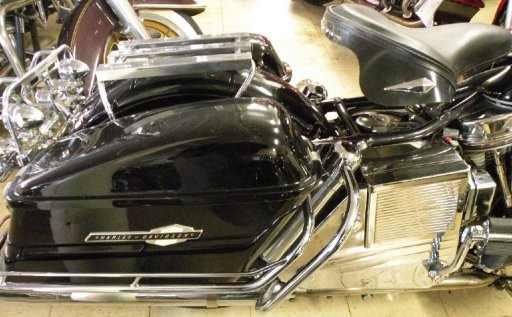 A black 1965 Harley-Davidson FLH Electra-Glide with the saddle bag emblems like the one at Perugia Way - 2013
Photos courtesy web
The colors available for 1965 were Birch White, Scooter Blue, Black with Birch White, Hi-Fi Blue with White, Holiday Red with White and Hi-Fi Red with White.3 The FLH at Perugia Way appears not to be two-toned from what's visible of the fuel tank. The fuel tank also increased from 3.7 gallons to 5 for models that were equipped with a foot shift.2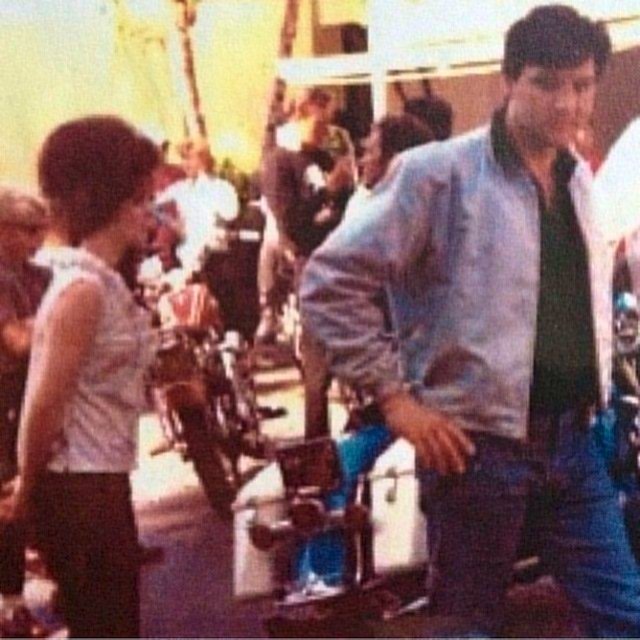 The Harley-Davidson FLH with Priscilla, Elvis and entourage at Perugia Way - April 1965
Photo courtesy Brian Petersen
The earliest marketing of the Electra-Glide most frequently showed the bike with the "King of the Highway" option group, which included saddlebags, removable windshield, luggage rack, and plenty of chrome goodies. It resulted in a look that firmly established the iconic H-D Touring motorcycle that carries into the present day. The "Road King" models offered from 1994 onward draw their inspiration directly from the classic 1965 Electra Glide models.2
page added October 5, 2015
1 according to Careless Love: The Unmaking of Elvis Presley by Peter Guralnick
2 according to or excerpt from HOG Magazine - 031 2015
3 according to John Pierce ColorWrite