Dermott High School
Dermott, AR
Dermott is a small town in Chicot County located in the southeast corner of Arkansas about 60 miles north of Louisiana and 10 miles west of Mississippi. Dermott grew from a bayou settlement, which had its beginning in the early 1840s, to a thriving railroad town in the 1880s. With an economy based largely on agriculture and timber, it flourished until the Depression. While many other small Delta towns did not survive that period, Dermott prevailed. Although it never regained its former stature, it remained a substantial town populated by many descendants of early settlers.1 It is home to the annual Dermott Crawfish Festival.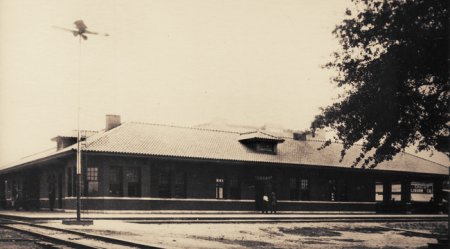 Railroad depot at Dermott (Chicot County); ca. 1950s
Courtesy of the Arkansas History Commission and Encyclopedia of Arkansas
During World War II, the United States established many prisoner of war (POW) camps on its soil for the first time since the Civil War. By 1943, Arkansas had received the first of 23,000 German and Italian prisoners of war, who would live and work at military installations and branch camps throughout the state. Camp Dermott in Dermott was one of the state's primary centers for German POWs. Previously the Jerome Relocation Center for Japanese Americans, it housed German officers.1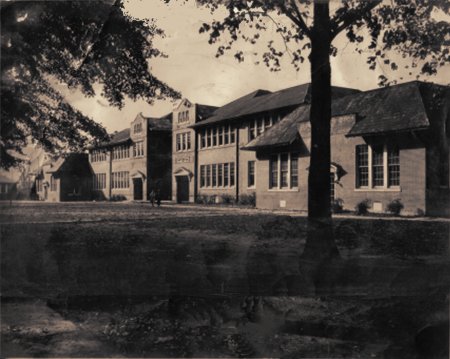 The "old" Dermott High School with auditorium on right
Photo courtesy Anita Shaw and classmates.com
Since the '50s Dermott's population has ranged between 3,000 and 4,000. The first public school in Dermott was built for black children during Reconstruction which evolved into Morris Booker Memorial High School and College by 1934. A state school for white students was organized in 1885, with classes in an abandoned cabin. It was replaced in 1908 by a brick building which became Dermott High School.1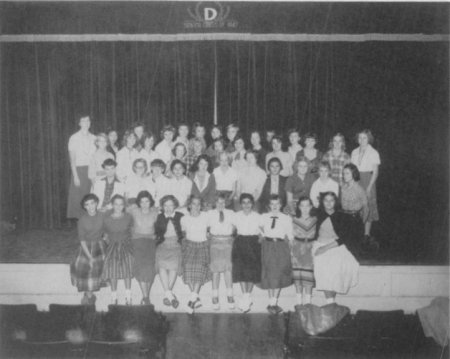 Drama Club onstage at the Dermott High School Auditorium - 1955
Photo from 1955 Dermott High School Yearbook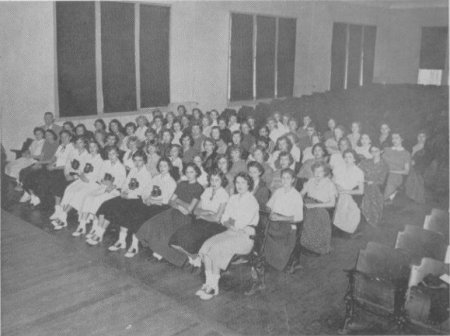 Students seated in the Dermott High School Auditorium - 1955
Photo from 1955 Dermott High School Yearbook

The school also contained the junior high and elementary grades down to the first. In 1955 the graduating senior class numbered at 35.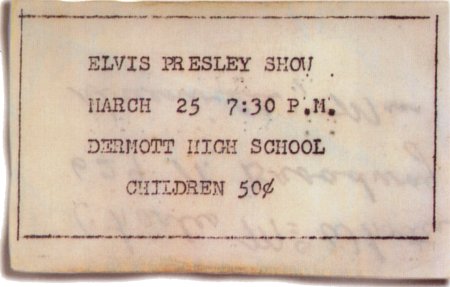 Thought to be one of the earliest tickets with Elvis as the headliner - Mar. 25, 1955
courtesy Elvis Day By Day
On March 25, 1955, Elvis Scotty and Bill performed at Dermott High School, reputedly two shows said to be sponsored by the Southern School Assembly. One former student recalled, Elvis came to Dermott AR, when I was in the eighth grade. It cost an unbelievable .50 to see him, usual price was a quarter. One performance Friday afternoon and one Friday night. Monday when everyone came back to school, they got their money back because the superintendent had talked with the SSA and told them that wasn't the kind of entertainment his students were supposed to see.2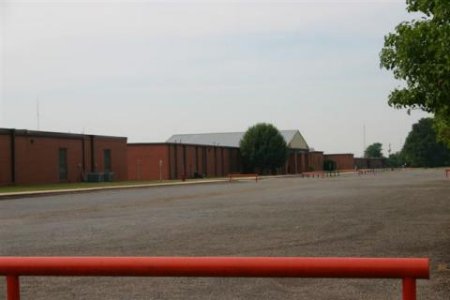 The newer Dermott High School - 2008
Photo © Sandra Nelson (DHS class of 83)
The schools began integration in the 1970s and a modern school was built in 1976. Morris Booker Memorial High School and College eventually closed and what was Dermott High School is now torn down.1
---
Coley's Truck Stop (Twin City Diner)
This may seem odd, but I've never taken a real spring break. I've never been to Cancun or Panama City Beach (though I'd like to one day!!). My family and I go to small towns, battlefields, state and national parks, and out-of-the-way museums. This spring break, we spent 4 days going to some of the places we've always wanted to go. One of the places we've all wanted to track down for a while was Coley's Truck Stop in Dermott, Arkansas. Here's why...


Scotty, Elvis, deejay Doug Ward, Bill and Trooper Kenneth McKee - 1955
Photo courtesy Lonnie Strange

In 1955, my grandfather, Kenneth McKee (I called him Gengan), was an Arkansas State Trooper stationed in Dumas. A local man named O.T. Coley and his wife ran a truck stop and restaurant in Dermott called the Twin City Diner. It was a place to sit, visit, and drink coffee with local people, which is something my grandfather did very well. He was 27 years old when he made the acquaintance of three young men on a journey to make their marks on the world. They were on their way to be on the Louisiana Hayride, a radio show based out of Shreveport, Louisiana. My grandfather visited with them on a fairly regular basis, and on this particular day, a picture was taken of them drinking coffee. My grandfather, dressed in his state trooper uniform, had his picture made with Bill Black, Scotty Moore, and Elvis Presley, who was holding my grandfather's revolver. Gengan was always very proud of this picture, and he could say that he knew Elvis and the Blue Moon Boys before they were really famous. We've had the picture hanging in our house for years. I asked about it when I was a little girl, and he said, "Yes, Elvis did have blue suede shoes on."


location in Dermott, AR of Coley's Truck Stop - 2009
Photo © Lonnie Strange

My parents and I have always wanted to see the old truck stop where my grandfather befriended Elvis Presley, so on Friday, March 20, we did just that! The only remains of the old truck stop and restaurant on U.S. Highway 65 are the bases of the old gas pumps and the metals poles of what may have been the entrance to the diner. Another building has been built around it, but no businesses are there now. If anyone has any pictures of the old Coley's Truck Stop (or Twin City Diner), I would love to see them!


location in Dermott, AR of Coley's Truck Stop - 2009
Photo © Lonnie Strange

Thank you, Dermott, for giving me a little piece of my Gengan's history!

Lonnie Strange

(The story about Coley's Truck Stop was originally posted by Lonnie on March 23, 2009 and reprinted here with permission)
As a trooper, Kenneth McKee was on the personal protection staff for Arkansas Governors Orval Faubus and Winthrop Rockefeller, and was present at Little Rock Central High School's integration in 1957. As a special assistant to Rockefeller, McKee oversaw the end of widespread illegal gambling in Hot Springs and negotiated halts to violent civil rights disputes.3
If nothing else though he was fairly well known in the area for that photo taken in 1955 with Elvis, Scotty and Bill in the Twin City Diner at Coley's Truck Stop. McKee would later tell his family that he got in quite a bit of hot water because he let someone else (Elvis) hold his revolver. He passed away at the age of 78 in April of 2007 after a colorful 25-year career with the Arkansas State Police and 10 years as a Washington County Sheriff in Arkansas.
page added August 4, 2011

Special thanks to Lonnie and Diana Strange, nee McKee, for the use of Lonnie's blog entry on A Strange Look at the Natural State, and also to FECC's Aunt Delta, Peter1970, Mississippi and Brian Petersen for their assistance with this page.
1 according to The Encyclopedia of Arkansas History and Culture
2 according to Lee of Camden, AR on Topix - Odessa, TX
3 excerpt from AP story "Former Washington County Sheriff Kenneth McKee Dies" Apr. 18, 2007 courtesy Today's THV
---
An after-party with Elvis, Scotty and Bill
My First Encounter with Elvis and His Music
August 17, 2011 by Jimmy Peacock

"Most Southerners worship three kings: King Jesus, King Cotton, and King Elvis!" (As a tenth-generation Southerner, there are three days of the year on which I absolutely refuse to work—the birthdays of Jesus Christ, Elvis Presley, and Robert E. Lee!)
–Jimmy Peacock
Since we have just passed an important day in the life of Elvis Presley (his death on August 16 in 1977), I thought I would share a letter I wrote several years ago to Elvis Radio in Memphis in celebration of Elvis' birthday on January 6, 1935.
In that letter I tell about the first time I ever heard Elvis Presley. It was while I was a junior in McGehee High School in the mid-1950s.
January 8, 2002

Elvis Radio
Memphis, Tennessee

Happy Elvis-mas!

"I moved to Babylon (Oklahoma) from the Holy Land (Arkansas) in 1977 (the year that King Elvis died, see Isaiah 6:1) to take a much-needed job in religious publishing. If ever a man put his hand to the plow looking back, it is me. I only miss home two times—night and day!" —Jimmy Peacock

A few months ago you broadcast an Elvis memory by Pat Scavo of Hot Springs. Pat (the former Patsy McDermott, affectionately called Patsy Mack) is a classmate of mine from the McGehee (Arkansas) High School Class of 1956.


Patsy McDermott at graduation from MHS in 1956

I was the one who suggested she send her Elvis memory to you. In it she told how she and some of the other girls from the class heard Elvis' first recording, "That's All Right, Mama," at the Desha County Fair in the fall of 1954 and later went to see him in the spring of 1955 at a concert in neighboring Dermott, Arkansas. They then invited him back to McGehee for an after-concert party in one of their homes. Naturally, they were all quite taken with Elvis. But that was the girls' reaction.


Elvis and his band with an Arkansas state trooper at a motel restaurant in McGehee in 1955 after his concert in Dermott

My first encounter with Elvis' music was at that same county fair and with the same recording, which I thought was "hickey." Later, after the concert when the girls came back to school with their autographed photos of Elvis. I took one look at those long sideburns (which no one but country clods wore in those days), all that greasy hair, and that curled-lip sneer, and said, "You mean to tell me y'all paid a quarter for a picture of this yap?"—our word for a country hick.


The 1955 photo of Elvis (like) the McGehee girls bought for a quarter

So my first two impressions of Elvis and his music back in 1954 and 1955 were not at all positive—which was perhaps more of a young man's reaction than a young woman's reaction. Soon afterward, however, I became a loyal and lasting Elvis fan (see opening salutation above, which I, as a religious editor, created and copyrighted).


Me in 1955 (with pen marks above my head from signing my own yearbook photo -- I was no Elvis Presley!)

For our fortieth wedding anniversary on December 27, one of the gifts I gave my wife (also an MHS grad and a fan of the King) was a CD of Elvis' love songs. She loves it, and me, and Elvis—but not necessarily in that order.


CD of Elvis love songs (available at all Hallmark stores)

Long live the King!

Jimmy Peacock
The Rest of the Story . . .

What I failed to include in that letter was a description of exactly what happened before and after the girls attended the concert and actually saw Elvis for the first time. Their previous knowledge of him had been only that same recording of "That's All Right, Mama" that they and I had heard at the county fair and which one of them bought and played over and over.


The March 1955 McGehee Times ad about the Elvis concert in Dermott
Before the concert the girls saw a photo of Elvis in an advertisement in the McGehee Times. Until then they had thought he was a black performer. The ad, which one of the girls still has in a scrapbook, said that Elvis would be appearing at the local radio station and signing autographs before the concert. The station, KVSA, "the Voice of Southeast Arkansas, located halfway between McGehee and Dermott on U.S. Highway 65," began operating in 1953 and is still in operation today.


A brief nostalgic video about KVSA, which includes scenes from its heyday in the 1950s and a reference to Elvis being there at that time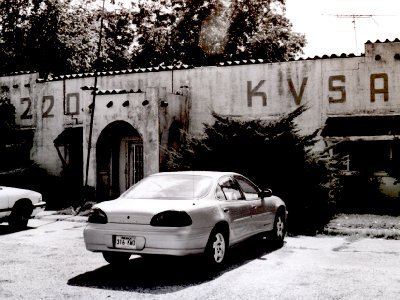 KVSA as it looks today, unchanged from the 1950s
Unfortunately, when the girls got to KVSA they did not get to meet Elvis, so they went on to Dermott to attend his concert. That first personal encounter with Elvis was so overwhelming that the girls were totally captured and enraptured. They had never seen or heard anyone remotely like him.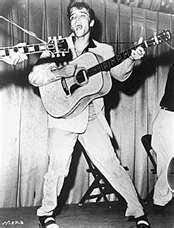 Elvis as he looked at the Dermott concert in 1955
Since one of the girls, Berta Jo Taulbee, was dating Billy Mack Harkins, the president of the Dermott senior class who was in charge of the concert, the girls quickly began to make plans to invite Elvis and his band members Scotty Moore and Bill Black to an after-concert party in McGehee, an invitation that he freely accepted.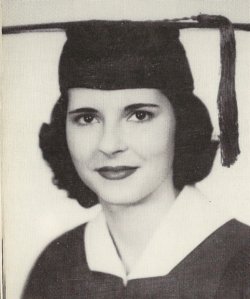 Berta Jo Taulbee in 1956
As Patsy Mc tells it, Pat Lally was chosen to ride with Elvis in the front seat of his pink Cadillac with Berta Jo and Billy Mack in the back seat. (And yes, Patsy Mc refutes the Graceland claim that Elvis did not own a pink Cadillac in 1955, because she and her classmates know better.) Scotty and Bill followed in another car on the way to McGehee.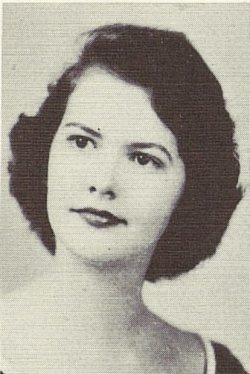 Pat Lally in 1955
When the two girls and Billy Mack were in the car with Elvis, the first they had ever ridden in with power windows, Berta Jo asked Elvis, "How do you roll down this window"? To which Elvis remarked with a smile, "You don't, you push the button."
Patsy Mc and the other girl in the group, Roberta Wyeth, were driven home by Roberta's mother. They went ahead to Pat Lally's house where they informed her mother that she would soon be entertaining company. When Elvis and the others arrived, Pasty Mc had already set up the phonograph to be playing the 78-rpm monaural record of "That's All Right, Mama," which Pat still owns. However, Patsy Mc admitted that she was rather disappointed when the first thing Elvis did when he entered the house was ask where the bathroom was.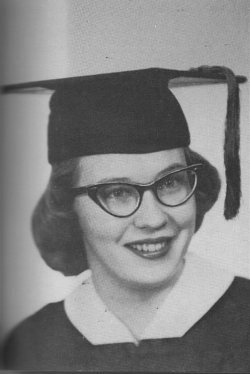 Roberta Wyeth in 1956
A second disappointment came when some of the girls and Scotty and Bill started dancing to the music. When one of the girls asked Elvis if he would like to dance, he declined the invitation saying, "I really don't dance very well." That statement was a shock to the girls who had just watched his gyrations all over the stage for an hour at the concert.
However, Patsy Mc noted that as quickly as he could Elvis went directly to Pat Lally's mother and politely introduced himself and thanked her for having him and his band in her home. Throughout the evening he was so gracious and attentive to Mrs. Lally that when he left she was convinced that he was one of the nicest young men she had ever met.
That opinion was shared by the girls when the next day they met and talked about the previous evening. Although they sensed that they had been "privy to a very special event," none of them had any idea what was to become of Elvis Presley, "just that he was a very special person."
Their conclusions seemed to be confirmed some months later. In our senior year at McGehee High School Pat Lally's family moved to Biloxi, Mississippi, where her father was stationed at the Air Force base. While they were there, Elvis appeared at the Officers' Club, and Pat asked Luke "Ben" Thomas of McGehee to take her to see Elvis, though she doubted that he would even remember her.
However, after the first song or two Elvis spoke to Pat and asked about her mother. That thoughtful act convinced all concerned that Mrs. Lally was right: Elvis Presley was a very nice young man–a true Southern Gentleman.
At age fifty the "girls" got together to share memories of their first encounter with Elvis. Although each had a slightly different memory of what happened that evening, they all agreed that it was an incredible experience, one that they would never forget.
So although it took me a while to become a fan of Elvis and his music back in 1954-55, the girls from my class of 1956 became devoted and lifelong fans from their very first personal encounter with the future King of Rock and Roll.
Jimmy Peacock
originally posted August 17, 2011 by Jimmy Peacock on My Oklahomian Exile - An Exiled Arkie of the Covenant
added with permission September 6, 2011 (Happy Birthday Mrs. Peacock!)
Special thanks to Jimmy Peacock for his permission to republish his article here and to Francesc Lopez at Elvis Presley in Concert for the initial link to it.