Scotty Moore signature ES 295
In July of 1999 Gibson commemorated the launch of the latest Gibson signature guitar - the Scotty Moore model - based on the original ES 295 Scotty played in the early '50s. Initially these guitars were ordered from the custom shop and sold by catalog by Scotty's long-time friend Jacques Vroom. Only 15 were believed to have been produced. Each of 12 of the guitars ordered through Jacques' catalog were personalized by Scotty for the owners before the last clear coat was applied. Another was sold to a friend of Stan Perkins and the last was donated for to an auction for a Carl Perkins charity.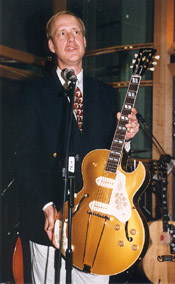 Henry Juszkiewicz, with first 'Scotty Moore'
signature ES 295 in 1999
photo© courtesy Gibson
The first of the new 'Scotty Moore' instruments, #SM001 was presented to Scotty by Gibson CEO Henry Juszkiewicz at a party held at Beatles producer Sir George Martin's North London Air Studios. The signature guitars marked the start of an aggressive campaign by the Nashville-based company to step up sales across Europe. The guitar had been on loan and display at the Rock 'N Soul Museum in Memphis, TN. At some point the guitar was re-equipped with a different tailpiece and bridge to more accurately resemble the way Scotty had modified his 1953. During the fall of 2003 it was on display at the Valley Arts Guitar store in Nashville to commemorate his 50 years playing Gibson guitars and has since been returned to the Memphis Rock 'N Soul Museum.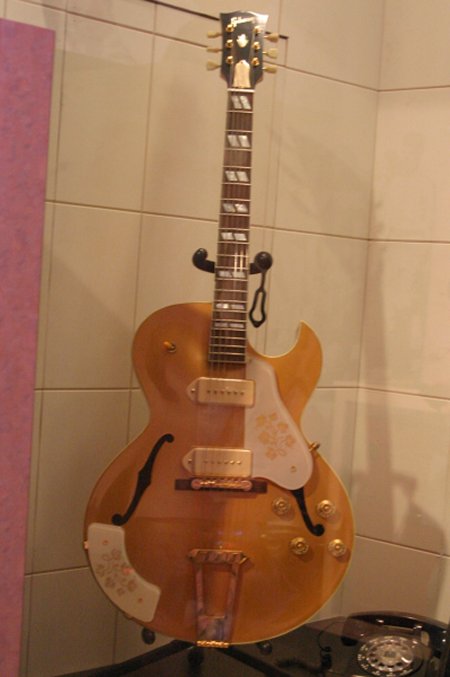 The guitar on display at the Memphis Rock 'N Soul Museum
* As per Scotty's will, this guitar, when returned to the estate, was auctioned along with other items and proceeds distributed amongst his heirs. The guitar sold at auction at Graceland on August 12, 2017 for $20,000.00 ($25k including the buyers premium).
---

Scotty and Sir George Martin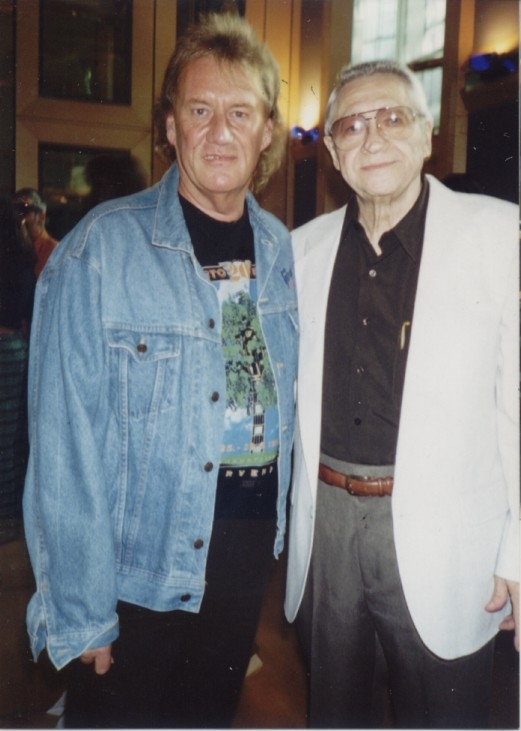 Alvin Lee and Scotty at Air Studios - July 13, 1999
The event at Air Studio was held July 13, 1999. In attendance that day with Scotty and DJ were, among others, Sir George Martin, Jeff Beck, Jimmy Page, Alvin Lee, Jack Bruce, Gary Moore and Steve Howe.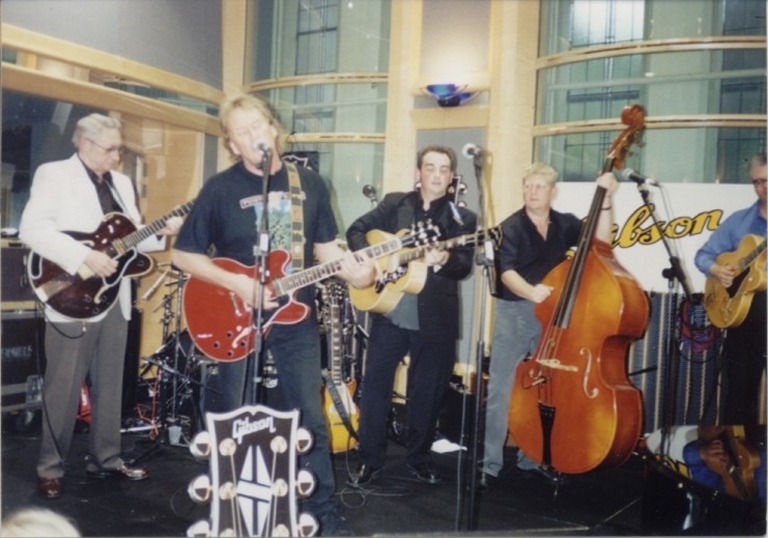 Scotty, Alvin Lee, Ian Conningham, Pete Pritchard and Peter Davenport at Air Studios - July 13, 1999