RCA Gold and Platinum Presentation
On September 23, 1997 Scotty Moore, D. J. Fontana, and the family of Bill Black all received belated gold and platinum albums from RCA Records for their work on Elvis Presley's initial recordings. John Fogerty and Sun Records founder Sam Phillips attended the Hard Rock Cafe celebration, and both men gave heartfelt speeches about the trio's talents and the contributions they made. Plenty was said about how Moore, Black, and Fontana never received the rightful credit they deserved for helping to create the music that made Presley so renowned. The gold-record presentation was a move in the right direction, as Phillips put it, "to recognizing how important these men were to the music we love."

John Fogerty, Sam Phillips, D.J. Fontana and Scotty
Moore and Black, along with producer Phillips, have been credited with helping Presley come up with a fresh, energetic sound that combined blues, country, and bluegrass into something that fully expressed the young singer's unusual talents. Phillips has often cited Moore's quick-fingered playing and his broad knowledge of styles as an integral part of The King's groundbreaking first recording session; the same can be said for Black's aggressive rhythm playing on the standup bass. Fontana, Presley's first drummer, joined the band after The King started recording for RCA Records.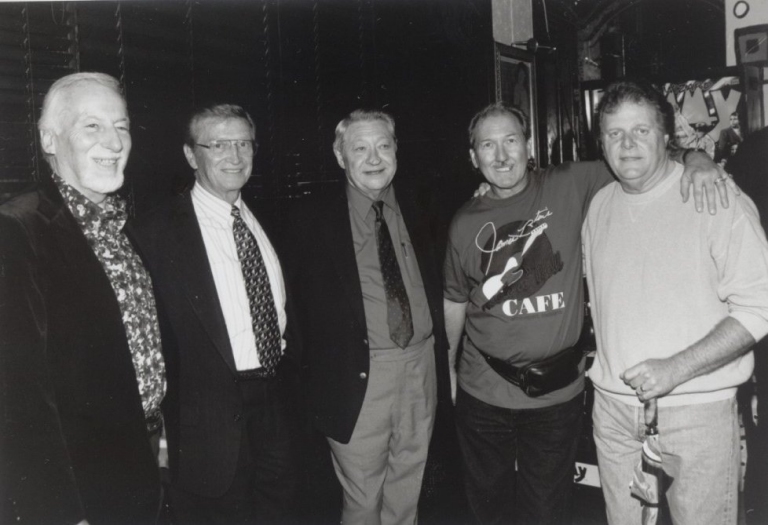 Sonny Burgess, Harold Bradley, Scotty, James Burton and Reggie Young
Fogerty, who often has cited the influence of the Sun recordings on his own music, called the opportunity to present the gold records to his heroes as "the high point of my life, except for my marriage.... It's an awesome thing to say they were at ground zero" when rock 'n' roll was being invented. Fogerty went on to explain that it took him years to figure out how Moore created certain guitar licks. He also smilingly apologized to the guitarist for lifting one of his licks for the primary riff in "Bad Moon Rising."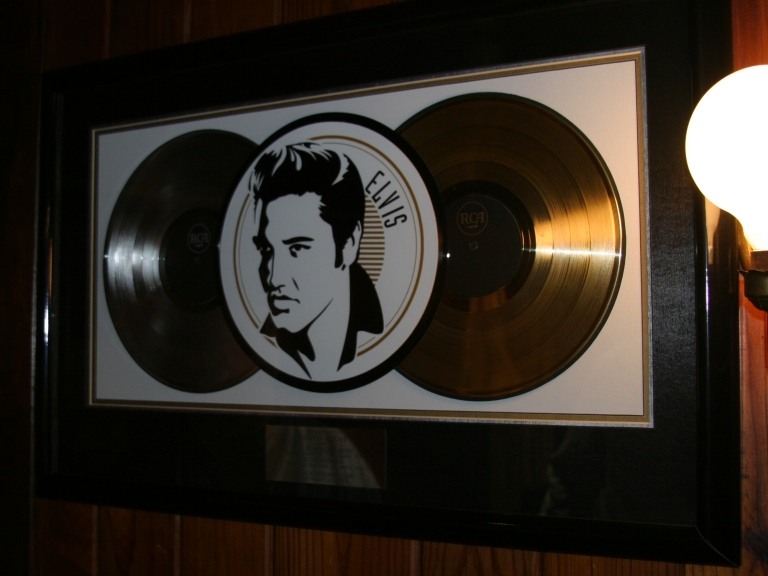 The plaque hangs in Scotty's home studio
Phillips, in a colorful and rambling speech, explained how Moore and Black hung with Presley in the studio, each prodding the other to create something wilder and more exciting. The producer of dozens of classic performances, including landmark songs by Jerry Lee Lewis, Johnny Cash, and Howlin' Wolf, Phillips said the early Presley recordings were "the most fun I've ever had in the studio"; he said he'd feel that way even if they hadn't become so celebrated.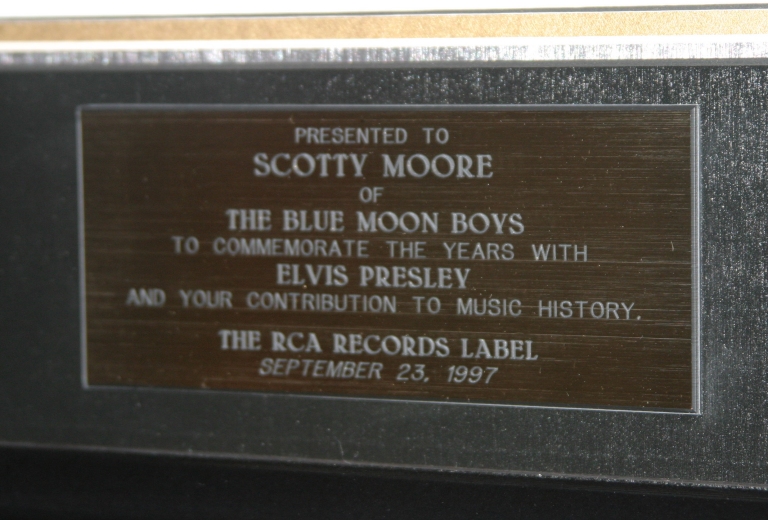 This recognition comes hand-in-hand with the release of All the King's Men, which features Moore and Fontana backing a variety of all-star talent. Unlike most albums of this ilk, it's a consistently solid affair, perhaps because the two musicians perform on every song. The contributing musicians include Keith Richards and Ron Wood of the Stones, Jeff Beck, The Band, Cheap Trick, The Mavericks, Steve Earle, Joe Ely, Tracy Nelson, Joe Louis Walker, the Bodeans, and Ronnie McDowell; in a smart move, they all perform original material rather than trying to recapture the magic of Presley's early recordings. To hear Cheap Trick's Robin Zander rip through his "Bad Little Girl" personifies the excitement of '50s rock 'n' roll--and it's much more interesting than hearing a warmed-over version of a previously recorded classic. Fontana's and Moore's handprints are evident throughout in the simple, propulsive rhythms and the spare, smart guitar chords.
excerpt from The NashvilleScene
by Michael McCall
October 27, 1997